Aleah Norwood
Meet Aleah Norwood, this stunning NFL Wag is the wife of Jordan Norwood, the NFL wide receiver for the Denver Broncos, who played college football at Penn State before he was drafted by the Philadelphia Eagles, he also played with the Tampa Bay Buccaneers. Although we are going to tell you a rather brief story about Norwood, we won't hesitate about spilling the beans about his pretty wife Aleah Norwood, so are you ready?
Aleah Norwood's talented hubby is there son of Brian Norwood, former head coach at Penn State and current assistant head coach at Baylor University under coach Art Briles. Jordan was born  in Honolulu, Hawaii on September 29, 1986.
He attended State College Area High School, and chose Penn State's scholarship offer over Bucknell; Jordan was an avid football player, but he was also an impressive basketball player, just like his older brother Gabe who played George Mason University and younger brother Levi who is a basketball player at Baylor. At the end it was football the sport that got him to the point in his life where he is at today.
Jordan Norwood graduated in 2008 from Penn State with a Bachelor of arts in public relations and advertising. He signed with the Cleveland Browns as an undrafted free agent on May 1, 2009; Cleveland waived him in September, 2009 and the Philadelphia Eagles brought him to their squad on September 23, Norwood was on the active rooster team on December 1, but waived 6 days later; two days after that he was re-signed. He signed a three-year contract on January 11, 2010 and was waived less than 10 months later.
He returned to Philly for a second stint with the Eagles in September, 2010, he was released  three years later. He signed with Tampa On August 28, 2013, they waived him three days later. In 2014, the Denver Broncos  signed him in.
Ready to meet the missus?
30-year-old Aleah Norwood was born Aleah Rae Tebben in Kandiyohi, Minnesota on April 29, 1985 to Michael "Mike" Lee Tebben and his wife Judith Ann Tebben (nee. Brouwer) both Minnesota natives. Aleah's dad Mike Tebben is the owner of Tebben Enterprises, Inc, he also worked for Homeinfomax, Linder Farm and AG Network. Aleah has one sister named Jenna. 
Aleah Norwood attended MacRay High school and Augsburg College  in Minneapolis, MN where she was member of the Auggies college team. Jordan proposed on Christmas, 2014.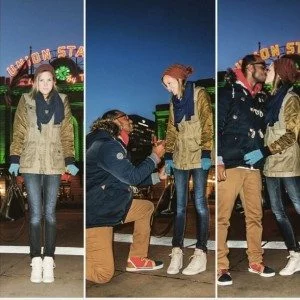 Like hubby Jordan, Aleah Norwood is an amazing photographer and a spectacular pianist, as a matter of fact Aleah is a music teacher at Adams 12 Five Star School.
5'9" Aleah got married to Jordan Norwood on June 20, 2015. They welcomed their adorable daughter Franni Grace Norwood ( 8lbs. 7oz. | 21in) on November 4, 2015.
You can follow Aleah Norwood on Twitter here