Meet Jordan Dixon
Jordan Dixon is the NFL wife of Denver Broncos player, Corey Nelson. She and the linebacker have been together for a while and though is not safe to say if they are already married, we are pretty sure that is the next step for these two.
Son of Cedric and Camisha Nelson, his mom works for the State Fair of Texas according to his Sooner profile. When he is not on the field, Corey enjoys writing poetry. He played college football at Oklahoma.
The communications major and Jordan Nixon, welcomed a child in 2015. According to a baby registry, Jordan Nixon gave birth on December 8th. The young couple welcomed an adorable baby girl. Jordan Dixon and Corey Nelson named their baby girl, Phoenix.
The couple attended the Oklahoma AIDS Care Fund's crimson-clad evening to raise money and awareness.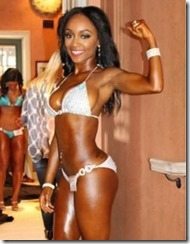 Tiny Jordan Dixon is a fitness and bikini competitor. She and Corey Nelson actually work out together and you know what they say…family who works out together, stays together. During an interview he said he was going to Haiti to get married.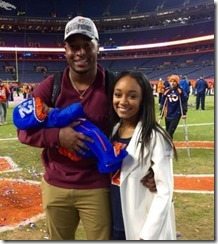 Jordan's baby daddy, partially tore his pectoral muscle as a senior at Oklahoma and he got drafted despite missing the last half of his senior season.
In college Nelson started 27 of his final 31 contests for the University of Oklahoma and finished his collegiate career with 154 tackles (76 solo), 7.5 sacks (43 yds.), one interception (24 yds.), 11 passes defensed and one fumble recovery.
Corey was drafted by the Broncos in the seventh round of the 2014 NFL Draft.
In 2014 Nelson played all 16 regular-season games and totaled 13 tackles (7 solo), one pass defensed and four special-teams stops. He made his Broncos debut in the season opener vs. Ind. (9/7) on special teams and recorded his first career special-teams tackle at Sea. (9/21); tallied his first career defensive stop at NYJ (10/12) and finished with a team-high seven tackles (3 solo).
He was named the Broncos' inaugural Community Rookie of the Year in 2014 for his off-field contri- butions during his first NFL season.
You can find Jordan Dixon on Instagram here.