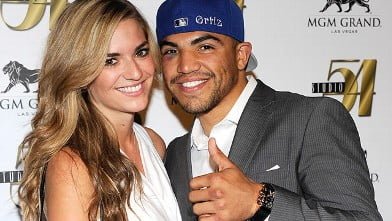 Pin
Victor Ortiz, Alexia Garland's BF is willing to do everything Lindsay Arnold tells him to do for Dancing with the Stars. He's spirited and wants to be successful at that Mirror Ball.
He adds:
Anything she says, I'm willing to do.
The boxer said his equal contestants better watch out for him and his bloodthirsty character.
He adds:
I want to win it actually. I want to win this thing… my other competitive side of me is now kicking in.
And he hopes to be crowned the champion with the aid of Lindsay.
He adds:
I have a wonderful partner. She is awesome. It's her first season, I know she's hungry to win this thing.

I'm just obeying, she's the coach right now, so I can't let her down, so I'm definitely working as hard as I can.
The powerful dance preparation has come with hardly any hurdles for the athlete.
He adds:
I get frustrated sometimes and she works with me through it. At least she knows, I'm a work horse, so whatever is put on the table I'm going to deliver.
Alexia and all her work colleagues must be eager to cheer her boyfriend in this contest. She must be practicing off cameras with him some steps, don't you think?
Alexia Garland's  bio facts
In view of the fact that losing to Floyd Mayweather in late 2011, Victor Ortiz was seen at the post-fight bash at Studio 54 at the MGM Grand Hotel/Casino. While it was notable that he was out in public so soon after the fight, he was seen with his girlfriend Alexia Gardland who is pretty and brings attention.
25-year-old Alexia Garland graduated in 2008 from Saint Monica Catholic High School, and last year graduated with a bachelor of arts from the University of Southern California.
From 2010 until 2011 she was a public relations and marketing at Golden Boy Promotions, also in 2011 was a communications and event intern at Annenberg TV News, and and entertainment Film intern at PMK BNC.
Last Year Ms. Garland worked in the Research and Development field at USC Debate in The Ronald Regan Library, was in Los Angeles Dodgers' street team, a paid intern at Axis Agency and ultimately an assistant at Sony Pictures Entertainment
.
You can visit her FB here.