Kseniya Vasilevskiya
Meet Kseniya Vasilevskiya also spell Ksenia Vasilevskiy; she is the wife of Andrei Vasilevskiy, the Russian NHL player who is the 6'3″ goaltender for the Tampa Bay Lightning and Russia's National Team.
Andrei Vasilevskiy Career Timeline
The son of a former Russian goaltender started his career playing in Russia until 2012 when he joined the Tampa Bay Lightning, two years later made his international debut with the Rissian National Team.
On April 15, 2012, Vasilevskiy was selected in the first round (7th overall)  by the Salavat Yulaev Ufa during the 2011 KHL Junior draft.
The Tampa Bay Lightning selected Vasilevskiy in the first round (19th overall) in the 2012 NHL draft on June 22, 2012; the pick was initially for the Detroit Red Wings, but they traded the pick to Tamba in exchange for Sebastien Price and Kyle Quincey.
Vasilevskiy made his debut playing for the Bolts' affiliate team the Syracuse Crunch of the AHL
Joined the Tampa Bay Lightning on December 16, 2014, made his debut that same day against the Philadelphia Flyers.
On September 3, 2015, underwent surgery to remove a blood clot from his collar formed due to his condition with Vascular Thoracic Outlet Syndrome.
Returned to play on November 1, 2015, against the Carolina Hurricanes.
Agreed to a three-year contract extension with the Bolts in July 2016.
Suffered a  fracture to his left foot during a practice on November 14, 2018, and out for four weeks.
He signed an eight-year contract extension with Tampa Bay in July 2019.
Andrei Vasilevskiy Career Highlights & Awards
Won the Alexei Cherepanov Award in 2014.
Named CM/AHL Player of the Week on December 15, 2014.
On January 2, 2015, became the CCM/AHL Goaltender of the Month (December).
He played his 100th career NHL game on December 26, 2017.
Andrei was named to the 2018 NHL All-Star Game on January 10, 2018.
Recorded his 78th career NHL win on February 27, 2018.
Nominated to the Vezina Trophy along with Pekka Rine and Connor Hellebuyck; Rinne eventually won the trophy.
Winner of the Vezina Trophy at the 2019 NHL Awards on June 19, 2019.
Recorded his first career playoff shutout against the Dallas Star on September 28, 2020, during game 6 of the 2020 Stanley Cup Finals.
Voted top goaltender of the 2017 World Ice Hockey Championships.
Won the 2020 Stanley Cup in six games against the Dallas Stars.
Andrei Vasilevskiy Net Worth
According to records online, Andrei Vasilevskiy has a net worth estimated at $8 million. The Bolts selected Vasilevskiy wаѕ selected in the first round (19th оvеrаll) in thе 2012 NHL Draft. On Mау 6, 2014, hе agreed tо a three-year, entry-level contract with Tampa Bay. Andrei wаѕ раrt оf thе Russian National team whо wоn аt thе 2014 IIHF World Championship.
Andrei Vasilevskiy Contract & Salary
According to CapFriendly, Andrei Vasilevskiy's salary is $9,500,000; base salary of $3,500,000, and a total of $12,000,000.
Andrei Vasilevskiy signed his first three-year contract with the Tampa Bay Lightning on May 6, 2014.
On July 1, 2016, agreed to a three-year contract extension.
He signed an eight-year contract extension, worth $76 million on July 29, 2019, the deal included a signing bonus of $44,500,000.
Andrei Vasilevskiy Nickname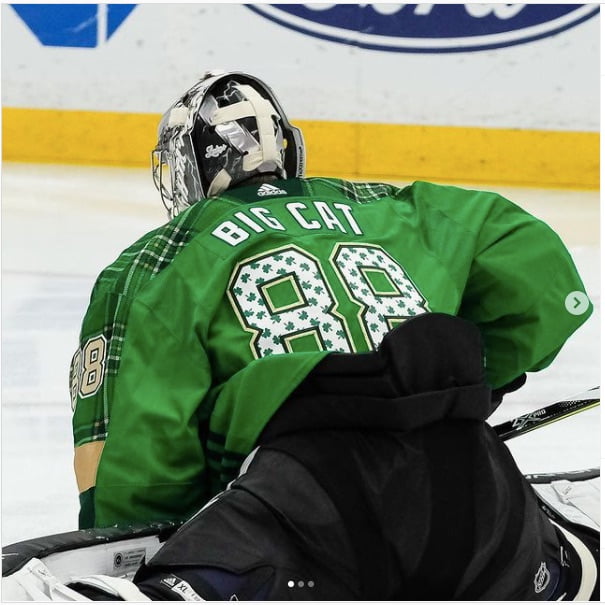 Andrei Vasilevskiy has two nicknames, Vasy and Big Cat, Vasy is pretty obvious, and Big Cat is due to his catlike reflexes, his Big Cat nickname was given to him by his teammates. However, Andrei once said he wished his nickname was McLover.
Andrei Vasilevskiy Number
Andrei Vasilevskiy's number he wears on his jersey with the Tampa Bay Lightning, as well as the Russian National Team, is #88 because it means infinity.
Andrei Vasilevskiy Jersey
Andrei Vasilevskiy's #88 Jersey with the Bolts is available for purchase on the Lightning official shop website. You can also get it at the NHL store.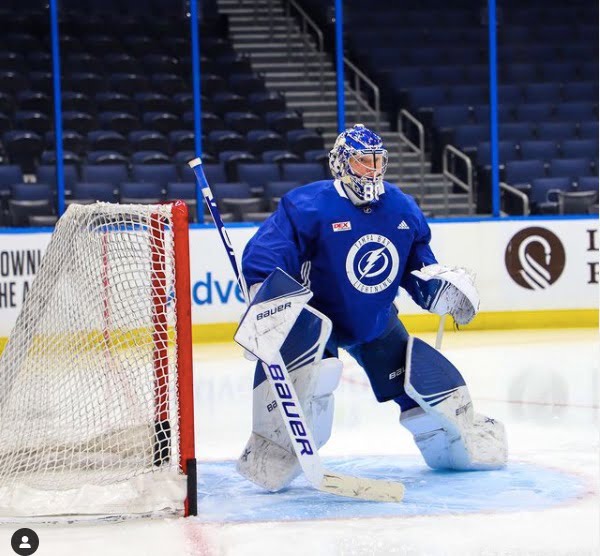 Fanatics also has some sweet deals and if you are interested in Andrei Vasilevskiy's signed jersey, you can get your hands on it for $449.99 at SportsMemorabilia.com.
There is also the opportunity to shop for Andrei's own website, you'll find grand selections, from hats to t-shirts, hoodies for men and women, to baby onesies.
Andrei Vasilevskiy Wife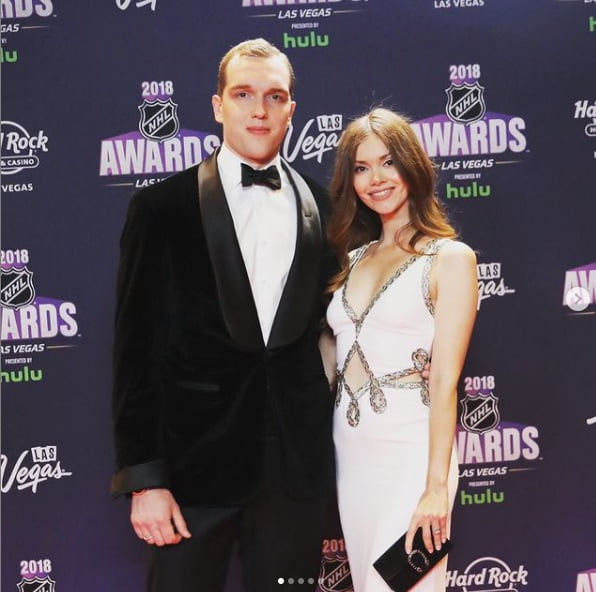 Kseniya Vasilevskiya – Ksenia Vasilevskiy
In 2009, Andrei met his lovely wife Kseniya on a plane, they sat next to each other on a two-hour flight to Moscow, while he was playing for Ufa; they started talking and kept in touch after that, started dating and nearly five years later they decided to tie the knot.
The rest as we all know by now is history, Andrei and Ksenia got married in February 2014.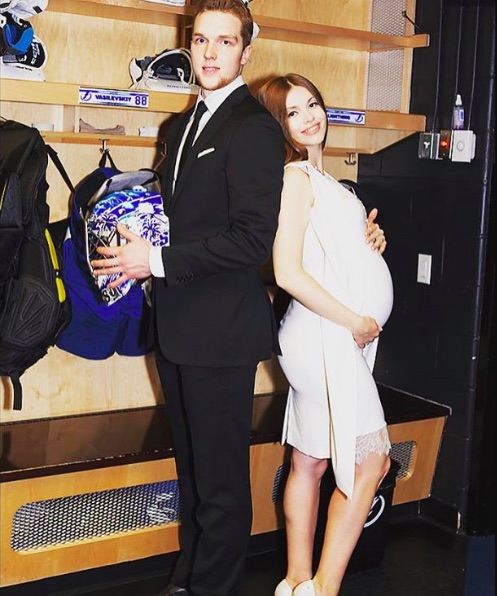 Andrei and Kseniya Vasilevskiya welcomed their adorable son Lukas on New Year's Eve 2015. They reside in South Tampa.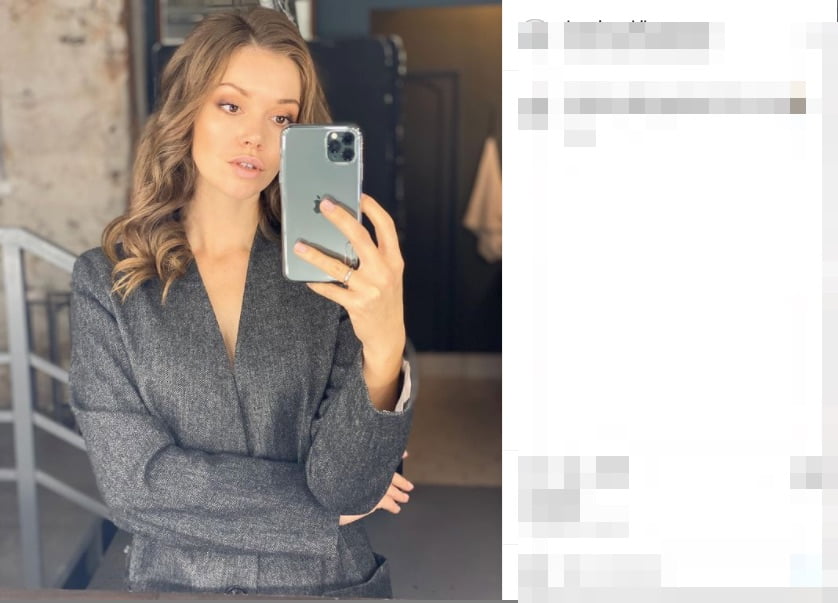 Andrei Vasilevskiy's pretty wife Kseniya Vasilevskaya born Ksenia Sahib-Gareeva in Ufa city; she went to Nice, France to study French; went to college and earned her degrees in economics and law. Since 2007, Kseniya Vasilevskiya has been working as a model between Moscow and Florida.