Avery Eyre Lovejoy
Avery Eyre Lovejoy aka Avery Lovejoy is the beautiful and incredible wife of Ben Lovejoy, the NHL defenseman who currently plays for the Pittsburgh Penguins. Lovejoy previously played for the Anaheim Ducks and before that while in college he played at Boston College and Dartmouth.
Avery Eyre Lovejoy's hubby Ben was born on February 20, 1984 in Concord, New Hampshire. He started playing hockey while he attended Deerfield Academy in Massachusetts, he continued while he studied one year at Boston College and three years at Dartmouth where he graduated in 2007.
Lovejoy wasn't drafted by any team in the Draft, but he joined the Norfolk Admirals of the AHL during the 2006-07 season, by the end of that term he signed a deal with the Penguins' minor league the Wilkes- Barre/ Scranton Penguins, and inked his NHL contract with the Penguins on July 7, 2008 making his NHl debut against the Buffalo Sabres on December 8, 2008. Lovejoy was traded to the Anaheim Ducks in exchange for a 5th round draft pick on November 14, 2009, he was traded back to the Penguins in March, 2015 in exchange for Simon Despres.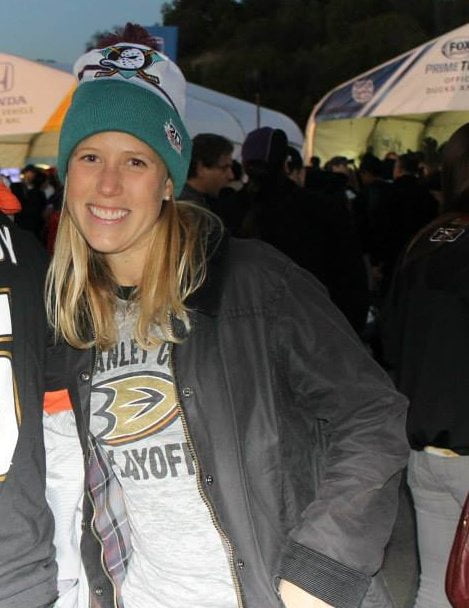 Ben Lovejoy met his pretty wife Avery Eyre Lovejoy met they both attended at Dartmouth College, where Avery Lovejoy was captain of the Squash team. Mrs. Lovejoy was born in Avery Cooper Eyre Ackerman on October 2, 1984 in San Francisco, California. Avery is the oldest daughter of real estate agent Ellen Ackerman Miller and Tower Watson's managing director William H. Eyre Jr. of Haverford, Pa. Their other daughters are Toby, Ashley both Squash players and Libby.
Avery Eyre Lovejoy graduated from Agnes Irwin high School and from Dartmouth in 2007, after that she worked on getting her master's in teaching from the University of San Francisco.
Ben and Avery Lovejoy got married on July 10, 2010 at the church of the Redeemer in Bryn Mawr, Pa. At the time of their wedding, she was teaching second graders at St. Peter's School in Philadelphia.
Avery gave birth to their first child, daughter Lila was born on December 30, 2013, their second daughter June was born in August, 2015.