Jocelyn Peters
Jocelyn Peters aka Jocelyn Jones is the beautiful sister of Martin Jones, the NHL player who is currently the talented Canadian goaltender for the San Jose Sharks, he also played for the Los Angeles Kings the team with whom he won his first Stanley Cup in 2014.
Jocelyn Peters' amazing brother Martin was born January 10, 1990 one of three children born to the Vice President of Arena Operations with the Vancouver Canucks, Harvey and Jenn Jones, who are also the proud parents of Martin's brother Jordan.
Martin started playing hockey at North Shore Winter Club and Handsworth Secondary School; he was selected by the Calgary Hitmen in the fourth round of the 2005 WHL Bantam Draft, he went undrafted at the 2008 NHL Draft, but the Los Angeles offered him a three-year deal before sending him back to Calgary, in 2010 he joined the Ontario Reign in 2010 and the Los Angeles Kings' affiliate team the Manchester Monarchs a year later.
He was invited to joined the Kings team for the 2013-14 season, he was on the roster when they won the Stanley Cup Championship but didn't play.
The Kings traded him to the Boston Bruins on June 26, 2015 who then traded him to the San Jose Sharks on June 30, 2015; Jones signed a three-year deal ($9 million) and became the Sharks' starting goaltender.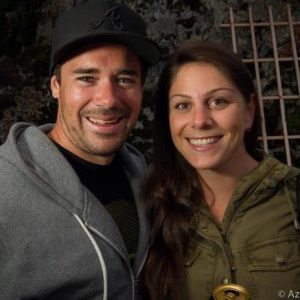 Mrs. Jocelyn Peters born in Vancouver is the pretty sister of Martin Jones, she and her Australian husband Tim Peters got married on July 12, 2015, they reside in Whistler, Canada.