Nathalie Asselin
Nathalie Asselin is the long time wife of Canadian former professional ice hockey player, Mario Lemieux. Her hubby played parts of 17 seasons with the Pittsburgh Penguins and is widely recognized as one of the best players of all time.
Her hockey legend husband is now one of the teams co-owners; during his playing days he was known as Le Magnifique or Super Mario. Mario was born on October 5, 1965, in Montreal, Quebec. Lemieux was selected first overall by the Pittsburgh Penguins in the 1984 NHL Entry Draft after a much-heralded career in the Quebec Major Junior Hockey League (QMJHL).
Her man led Pittsburgh to two consecutive Stanley Cups in 1991and 1992. Under his ownership, the Penguins won a third Cup in 2009.
Nathalie Asselin  and her hubby have been married for 23-years. The couple tied the knot in on June 26, 1993.
Nathalie Asselin widely known as Nathalie Lemieux, serves as Vice President for her hubby's foundation, The Lemieux Foundation, while her hubby is the chairman.
In 1993, the couple suffered a major health scare after Mario was diagnosed with Hodgkin's disease. Following a successful battle with Hodgkin's, her hubby has been cancer free for over two decades. Nathalie Asselin was already six months pregnant, the house purchased, the wedding planned, when doctors removed a lump from Lemieux's neck in early January and diagnosed Hodgkin's disease.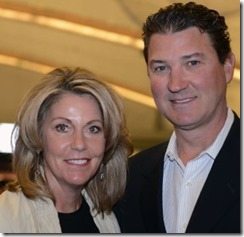 He devotes much of his time to the Foundation raising funds to help find a cure for cancer.
The Lemieux Foundation is a 501(c)3 organization dedicated to raising funds for cancer research and patient care, as well as Austin's Playroom Project –created as a result of Nathalie and Mario Lemieux's personal experience while caring for their infant son, Austin. In 1996, Austin was born profoundly premature and spent 71 days in the Neonatal Intensive Care Unit.It was then that Nathalie Asselin devised this idea to created room that give kids a chance to be kids during an otherwise stressful time.
Nathalie Lemieux serves as Chair of Austin's Playroom Project, and each room is called Austin's Playroom.
Nathalie Asselin and her husband are the parents to four grown children. She first gave birth to daughter Lauren in April 1993. Daughter Stephanie followed in 1995. Third child is son, Austin Nicholas, born 1996. And last but not least, there is daughter, Alexa, born in 1997.
The lovely wife and mother, also keeps busy hosting the Nathalie Lemieux Ladies Open, formerly Chicks with Sticks, which benefits the maintenance program for existing Austin's Playrooms.