Brittany Pinto
Meet pretty Brittany Pinto, the proud girlfriend of MLB player Joe Panik, the second baseman for the San Francisco Giants.
Joe was born in New York on October 30, 1990, He graduated from  John Jay High School in NY  and  St. John's University. He was selected in the in the first round (29th overall).
After he was drafted he spend a couple of years playing in the minors and was until June 21, 2014 that he made his MLB debut with the Giants.
Brittany and Panik are high school sweethearts, these two lovebirds have been dating at the age of 15, in 2006. And have been inseparable ever since.
High School and College
The young missy, splits her time between New York/California. In 2009 she graduated from John Jay High School. She attended Iona College and hold a Bachelor of Arts in Mass Communications: Public Relations & Minor in Marketing.
During her time in college she was a Phi Sigma Sigma gal, the sorority chick was actually on the executive board as the bursar of her sisters. (pictured below: front row in white).
She was elected by members to maintain finances of the organization and organize a budget of $11,000 for the semester and allocate money for sponsored events among other tasks.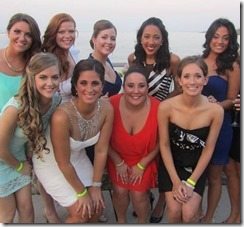 Brittany is as active on social media as she can be, the busy 23-year-old travels quite a lot! According to her Facebook page, where, by the way; she is not that loud about her man; she traveled to Las Vegas, Phoenix, Arizona; and more than 6 cities in California within a two month period.
According to her LinkedIn the Marketing/Public Relations Professional has worked at Mitchell Manning Associates as an intern, she also worked in the Marketing Communications Department at Iona College; as a Marketing assistant at Marketing Assistant and Marketing Coordinator for RUSK. Before all the corporate job networking, she worked as a cashier/hostess at Tiramisu.
Brittany and Joe became engaged in December, 2014. He popped the question in New York.
You can find her on Twitter here.