CeeCee Shaw
CeeCee Shaw is one of the girls after Kansas City Chiefs player, Travis Kelce, on the NFL player's reality TV show, Catching Kelce. The 24-year-old is the one representing the State of Michigan.
Keep Reading to know CeeCee Shaw's biography.
CeeCee's potential beau, is a tight end for the Kansas City Chiefs. He was drafted by the Chiefs in the third round of the 2013 NFL Draft. He played college football at the University of Cincinnati.
The 27-year-old hunky player is down to his last six women, and pretty CeeCee is one of them.
According to her profile on E!, CeeCee, real name Cicely, is known to her friends as the 'reckless one' and she also describes herself as an aspiring singer. Reason why she made the move from Michigan to L.A; in 2014.
We all know how hard it is to make it in Tinsel town. Since arriving in Hollywood, she's had to use other mean in order to support herself. According to her LinkedIn she has worked as a server at Yard House Restaurants. She is also listed as an actress for Central Casting and most recently she worked at Dior and Co. as a makeup artist.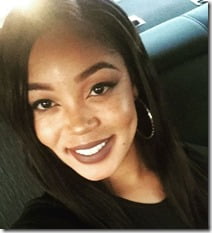 Prior to that, she worked at WADL TV 38 Detroit and at Creative Service Interm in Michigan.
CeeCee attended Romulus Senior High School from 2005-2009. She holds a Bachelor of Arts (B.A.), Liberal Arts and Sciences/Liberal Studies, Junior from Iowa State University.
CeeCee wanting to be a singer makes us think, participating, in reality, would be a great opportunity to expose herself. Do you think she is in the show for the right reasons?
CeeCee Shaw keeps active on social media. She has over 2K followers on Instagram. However, she isn't as popular on Twitter, with only over 300 followers.
Do you think CeeCee Shaw would make a good wag for Travis? Let us know in the comments below!