Lexi Noel
Lexi Noel is one of the last few women still trying to get a hold of NFL star, Travis Kelce. The pretty 23-year-old represents Georgia on his dating reality, Catching Kelce. Keep reading to know Lexi Noel's biography.
Lexi Noel is a self described fashion blogger and entrepreneur. She is lovely mix of Jamaican, Hungarian, Haitian, Lebanese and Australian roots.
The pretty fashion blogger also has her own YouTube channel. Lexi Noel reveals on her Twitter bio, she also has an interest in singing.
According to Reverbnation, Lexi is signed to LiL Cali Grl Entertainment. She is the 2014 IMEA AWARD WINNER for Pop Song of the Year "Party Glitter Rockstars" and 2015 IMEA AWARD WINNER.
Lexi has been a student of Jan Smith Studios for years and Grammy Nominated Brandon Blue Hamilton.
She has performed at Six Flags Parks in the US, Teen Hoot, SJCS, Brave Fest Tour, Dream Big Tour, CYD Tour, Cherry Blossom Festival, Mayfest, Schools, Malls and more.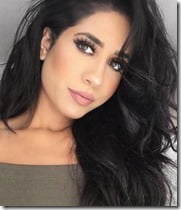 In 2014 it was announced she would be part of Sweety High. At the time she said:
I am so excited, honored and proud to be part of SH!" " I can wait to have all my 'best friends' aka my fans be a part of my world and enjoy Sweety High.

I want you to know that being you and loving yourself is so important. Don't be afraid to put yourself out there and go for what you want. I'll always be here to support you and of course make you laugh! I started doing videos to make my fans laugh and see what my life is like. I hope you enjoy it and you can reach out to me on Twitter and Insta anytime!  Love u lots always.. lexi:)"
Nowadays Lexi keeps busy running her website, House of Noel, where you can find from makeup to clothing and more.
You can find Lexi Noel on Twitter here.