Christina Sirignano
Christina Sirignano is the lovely girlfriend of Canadian NHL player, Matthew "Matt" Murray. It's a sweet moment for her 21-year-old boyfriend who is the Pittsburgh Penguins goaltender.
Matt has been having great success in the first two rounds of the Stanley Cup playoffs. After going 7-2 with a 2.05 goals-against average and .935 save percentage and still two weeks shy of his 22nd birthday, Murray will face Ben Bishop of the Tampa Bay Lightning. Will he rise up to the occasion one more time?
Matt Murray was born May 25, 1994. He is the son of a lawyer father and a bookkeeping mom. His father owns his own law firm in town.
He revealed during a recent interview to ESPN, it was his love for playing catch what made him decide to become a goalie. "It was probably that I used to love playing catch when I was a kid. So I think the glove — and that chance to catch pucks — definitely had a lot to do with me wanting to be a goalie."
Murray also reveals his eternal gratitude to his parents who were incredibly supportive of his career, he played five years of triple-A hockey, meaning his parents paid a great deal of money for equipment, traveling and hotel accommodations, without complaining one bit.
Between 2009 and 2010 Murray played in 40 games  for the Thunder Bay Kings midget minor team in his hometown. He was 32-5 and had six shutouts with a1.71 goals against average.
In 2011 he was drafted by Sault. Ste. Marie in the second round (35th overall) of the 2008 OHL Priority Draft, Murray skated in 28 games for the Greyhounds in his first OHL season and was named to the Canada Ontario squad for the 2011 U17 World Hockey Challenge
Matt was picked by the Penguins in the third round (83rd overall) of the 2012 NHL Entry Draft. Murray proved to be NHL-ready after dominating in the AHL for two seasons when he was called up by Pittsburgh at the end of the 2015-16 season.
Besides his parents, there is another person who is definitely influential in the life of the young player, his girlfriend Christina.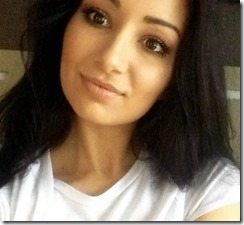 Pin
According to her Facebook page, lovely Christina Sirignano is originally from Thunder Bay, Ontario where she also resides. She is currently a college student at Lakehead University where she first enrolled in 2013.
College life demands for students to take some interesting jobs, in Christina's case, she has worked at a Shoppers Drug Mart and is currently an Office Associate at Leon's.
Christina Sirignano and Matt have been dating for a few years. They are both from the same town, so chances are childhood sweethearts. On her instagram page, she definitely has some vintage photos of the couple so, the romance translated to those high school days and of course prom nights.
Next to her man, the lovely brunette is tiny but they definitely make for a cute couple.
You can find Christina Sirignano on Instagram here.