Anna Kupp
Meet Anna Kupp, formerly known as Anna Croskrey; she is the beautiful wife of NFL player Cooper Kupp. Her man is the 6'2″ wide receiver for the Los Angeles Rams. Prior to signing with L.A, Cooper played college football at Eastern Washington.
Kupp has the record for most yards (1,965) from scrimmage by a wide receiver in a single season, most games with 90+ receiving yards in a single season, and most consecutive games With 90+ receiving yards.
Cooper Kupp Parents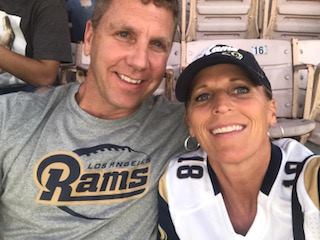 6'2 Cooper Kupp was born on June 15, 1993, in Yakima, Washington; he is one of four children born to Craig and Karin Kupp; Cooper has two brothers Kobe and Ketner, and one younger sister Katrina Kupp.
Craig Kupp
Cooper Kupp's dad, Craig was born Craig Marlon Kupp on April 14, 1967, in Sunnyside, Washington. He is one of three sons of former NFL guard Jake Kupp and Carla Kupp. His father Jake played college football at the University of Washington before the Dallas Cowboys in the 9th round (116th overall) of the 1964 NFL draft.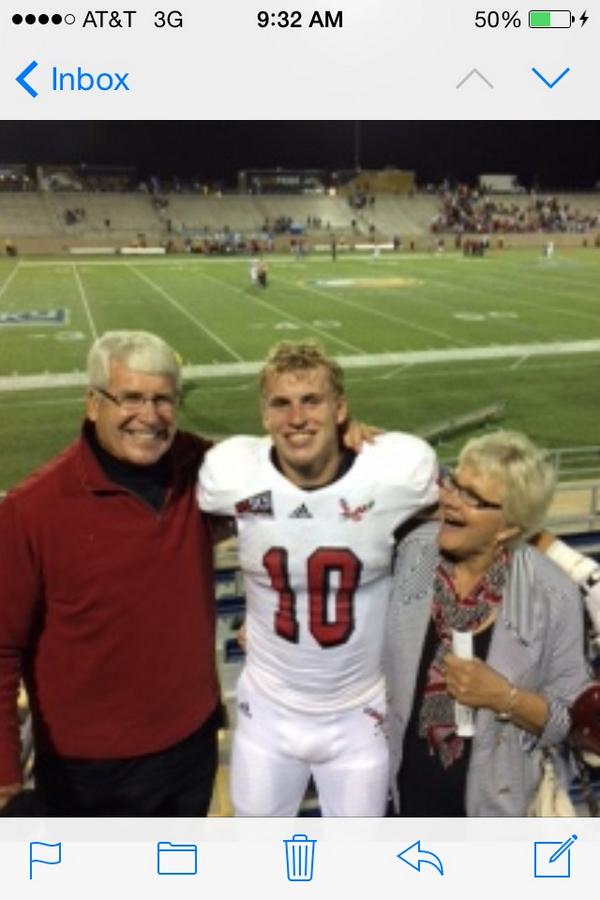 Jake Kupp played in Dallas until 1966 when he signed with the Washington Redskins, the New Orleans Saints in 1967, Atlanta Falcons a season later; returned for the second stint with the Saints in 1968; he retired in 1975.
Jake Kupp was named NFL All-Rookie Team in 1964 and played in the Pro-Bowl in 1969.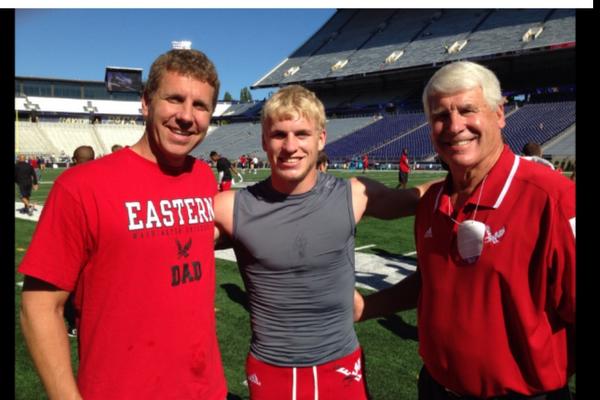 His son Craig, Cooper's dad, played quarterback at Selah High School, Montana Technological University, and Pacific Lutheran University before the New York Giants selected him in the 5th round (135th overall) in the 1990 NFL draft.
After the Giants released him before the regular season kicked off, Mr. Kupp signed with the Phoenix Cardinals in September 1990. The Cardinals released him on November 6, 1991, and the Dallas Cowboys claimed him off waivers on November 7, 1991. Craig Kupp completed  11-of-27 completions for 138 yards, one touchdown, and 4 interceptions, he retired on August 31, 1992.
Craig Kupp a leasing officer at Summit Leasing in Washington previously was the COO at Wilkinson Real Estate (2004-2009), Director of Sales at Aegon Direct Marketing Services (1997-2003), and sales manager at Coca Cola from 1992 to 1997.
Karin Kupp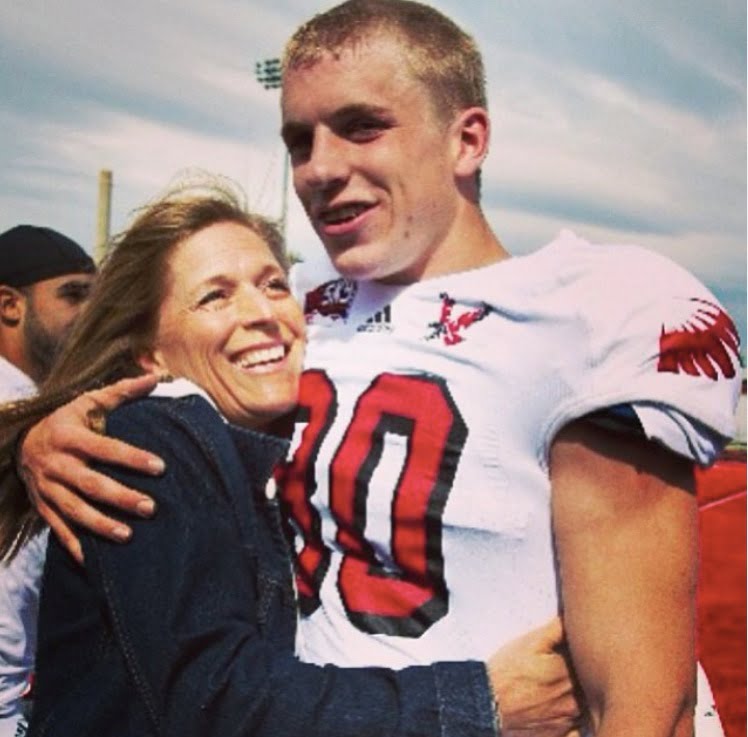 Cooper Kupp's beautiful mother Karin Kupp was born Karin Kristine Gilmer on February 8, 1969. Karin played soccer at Pacific Lutheran Univesity from where she graduated in 1991. She and Craig Kupp got married on March 23, 1991.
They welcomed their first son Cooper in 1995, Ketner in 1996, Kobe and later daughter Katrina.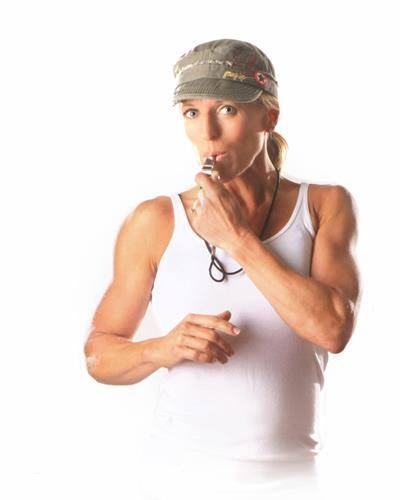 From 1992 to 2007, Karin Kupp was a group fitness instructor at the Yakima Athletic Club; In April 2008, Karin opened her own business Dare2Move Fitness in Yakima,  Washington
Cooper Kupp Siblings
As noted Cooper Kupp has two brothers and a sister. This is what we know about all of them.
Ketner Kupp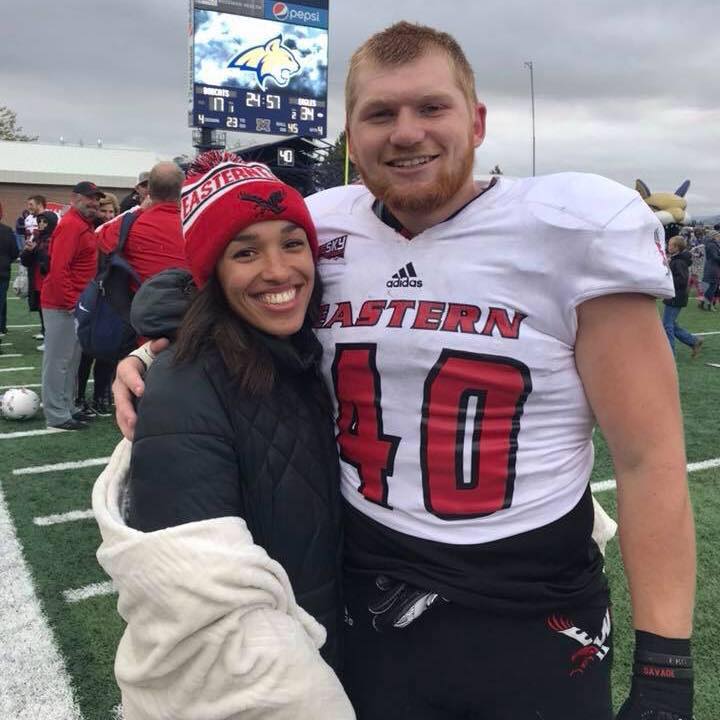 Ketner Kupp born on November 15, 1996, in Yakima played football (linebacker) at Eastern Pacific from where he graduated in 2018 with a business degree. Ketner later joined Cooper when he signed with the Los Angeles Rams in May 2019.
The Rams released Ketner on August 30, 2019, and he started a career behind the sidelines, as a  defensive analyst for Division I FCS powerhouse Eastern Washington University and later linebacker coach at Pacific Lutheran University.
Kobe Kupp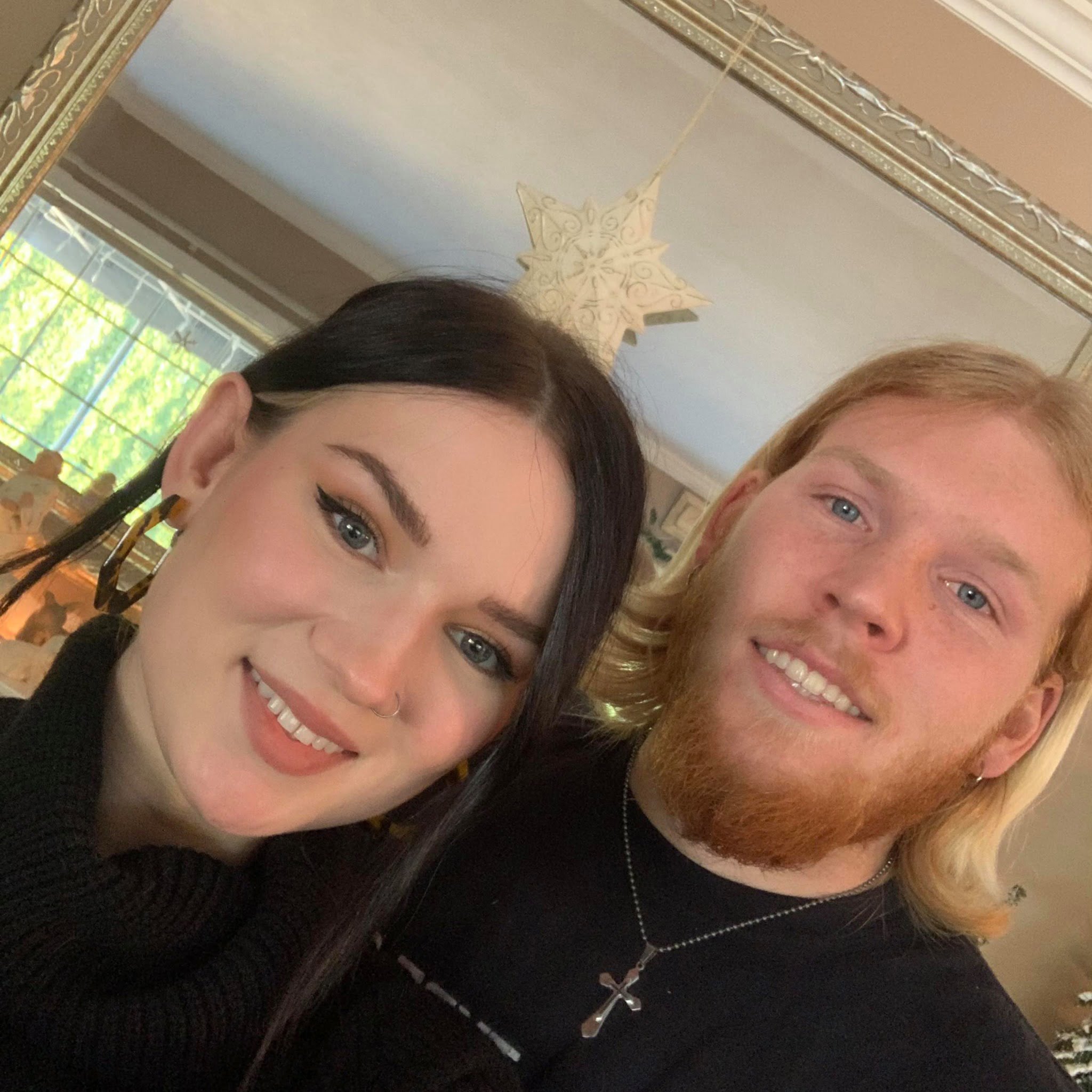 Kobe Kupp married Ali Kupp on June 22, 2019; Kobe graduated in 2021, from Eastern Washington University with a Bachelor's degree in computer science. Kobe and his pretty wife Allison "Ali" Kupp are expecting their first child together, Baby Kupp is coming in February 2022.
Katrina Kupp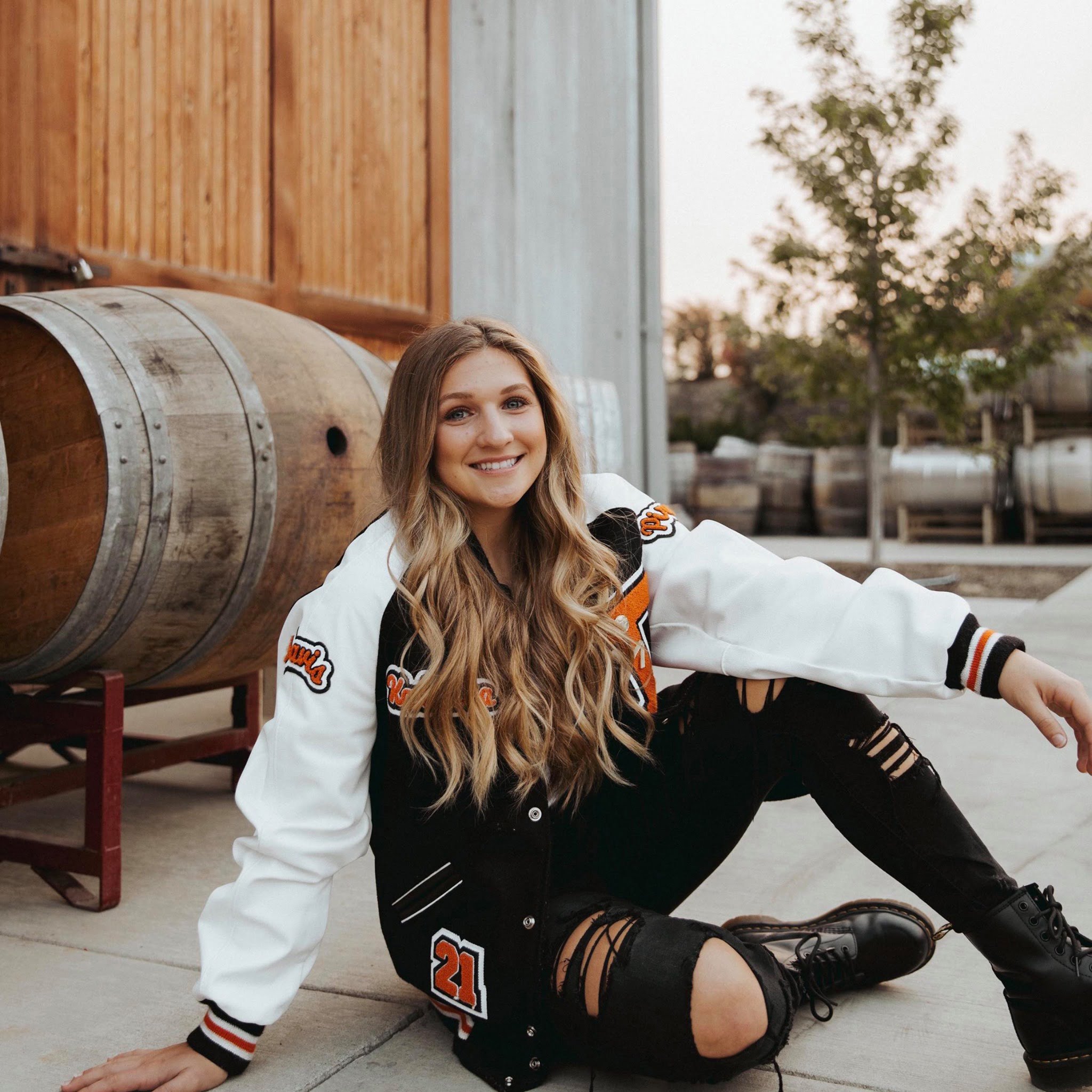 Cooper Kupp's pretty and talented sister is Katrina Kupp, the 5'5 freshman at Eastern Washington who plays midfielder for the girls' soccer team. Katrina Kupp is pursuing a degree in exercise physiology and plans to work as a physical therapist.
Before committing to Eastern Washington, Katrina played for years at Davis High School in Yakima, Washington.
Cooper Kupp College
Cooper Kupp attended Eastern Washington from 2012 to 2016. He redshirted his first year at EW. The following season Kupp finished with 93 receptions for 1,691 yards, 21 touchdowns in 15 games; he was awarded the 2013 FCS Wide Receiver Award, named as a first-team All-American, recipient of the 2013 Jerry Rice Award, and was named to the All-Big Sky Conference First Team.
Kupp finished the 2014 season with 104 receptions for 1,431 yards and 16 touchdowns in 13 games; he was named a First-Team All-American and named to the first-team All-Big Sky Conference.
The following season, Kupp completed 114 catches for 1,642 yards, 19 touchdowns in 11 games; he was named a first-team All-Big Sky Conference wide receiver, Big Sky Offensive MV, Offensive Most Valuable Player, and recipient of the Walter Payton Award.
He finished his last season at Eastern Washington with 117 receptions, 1,700 yards, 17 touchdowns in 13 games. He graduated in May 2016,  with a  bachelor's degree in economics.
Cooper Kupp NFL Career
On April 29, 2017, the Los Angeles Rams selected Cooper Kupp in the third round (69th overall) in the 2017 NFL draft.
On June 9, 2017, Kupp signed his rookie contract with the Rams.
On September 14, 2017, Kupp made his NFL debut against the Indianapolis Colts.
On January 16, 2018, Kupp was named the 2017 All-Rookie Team by the Pro Football Writers Association.
He and Robert Woods were named starting wide receivers for the 2018 season.
On September 12, 2020, Kupp signed a contract extension with the Rams.
On December 29, 2020, Kupp was placed on the reserved/COVID-19 list.
Cooper Kupp Stats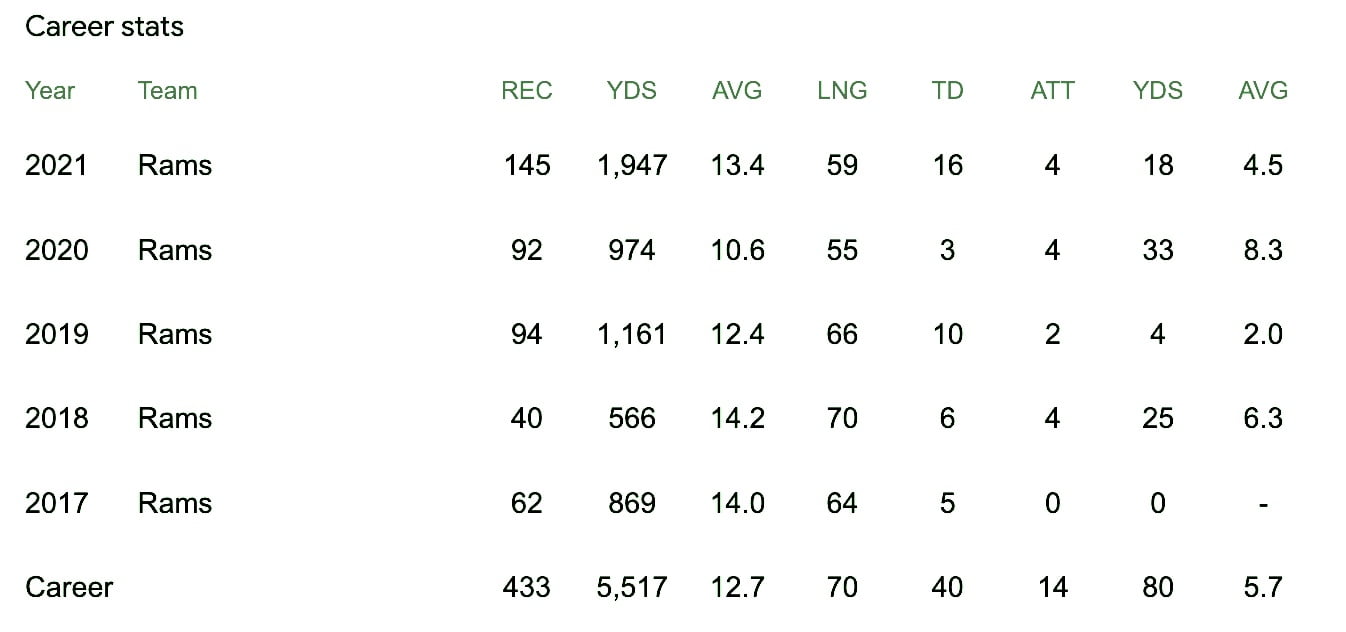 Cooper Kupp Injury Timeline
August 22, 2017, suffered an inguinal groin in Week 1.
October 7, 2018,  head cranial concussion on Week 5.
October 14, 2018, sustained a sprained left MCL.
November 11, 2018, missed the last six games of the season after he tore his left ACL.
January 9, 2021, suffered a knee injury.
Cooper Kupp Net Worth
As of  January 2022, Cooper Kupp's net worth has been estimated at $18 million. In addition to his salary from the Rams, Kupp earns from his endorsement deals.
Cooper Kupp Endorsements
The 6'2 NFL wide receiver, Cooper Kupp has endorsement deals with Snickers, Nike, Michael & Ness, Ball Corporation, Unify, the Greg Lauren Collection, and Lexani Tires & Wheels.
Cooper Kupp Contract & Salary
On June 9, 2022, Kupp agreed to a three-year, $80,100,000 contract with the Los Angeles Rams. His deal included a $20,000,000 signing bonus, $75,000,000 guaranteed, and an average annual salary of $26,700,000. 
On September 12, 2020, Cooper Kupp signed a three-year contract extension with the Los Angeles Rams worth $48 million; the deal included a signing bonus of $6 million, $35.1 million guaranteed; Kupp's annual salary is $15,750,000.
Kupp's first contract with the Los Angeles Rams was worth $3,831,760 for four years and included a $954,760 signing bonus. His salary at the time was $957,940.
Cooper Kupp Jersey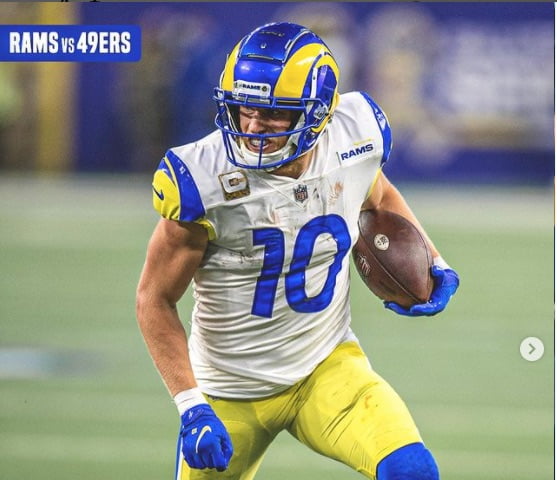 Los Angeles rams looking for Cooper Kupp's #10 jersey you can get yours at the NFL Shop and the Rams Fan Shop.
Cooper Kupp Merch
If you have seen Kupp's official hats, shirts, then you can get Cooper Kupp's official merch on his website. 
Cooper Kupp Wife
Cooper Kupp gave his wife Anna Kupp the credit for the inspiration he gets for every game,  before signing a deal with the Rams, they relied on Anna's salary to support them, she juggle work and college so Copper could set his mind on football.
"I supported us monetarily through college," Anna said, laughing, almost in disbelief she pulled it off. "I was working full time so that he didn't have to worry about that, so that he could focus."
"Without a doubt, there's no doubt in my mind, not only would I not be here where I am today without her or accomplishing the things that I would be doing," Kupp said. "I really believe I may not be in this — I may not be in the NFL if it wasn't for her and what she has inspired in me and pushed me to do."
Kupp's friends also agreed with Cooper.
"Coop and Anna — they were a team," said Zach Wimberly, a former Eastern Washington teammate. "No matter what they did, they're doing it together."

Anna is his rock," said Austin Wagner, Kupp's best friend from high school. "I don't think there's a Cooper without what Anna's done for him. She's a person that really expects a lot out of the people around her and has kind of a high threshold for excellence … Cooper works harder because of that."
Anna Kupp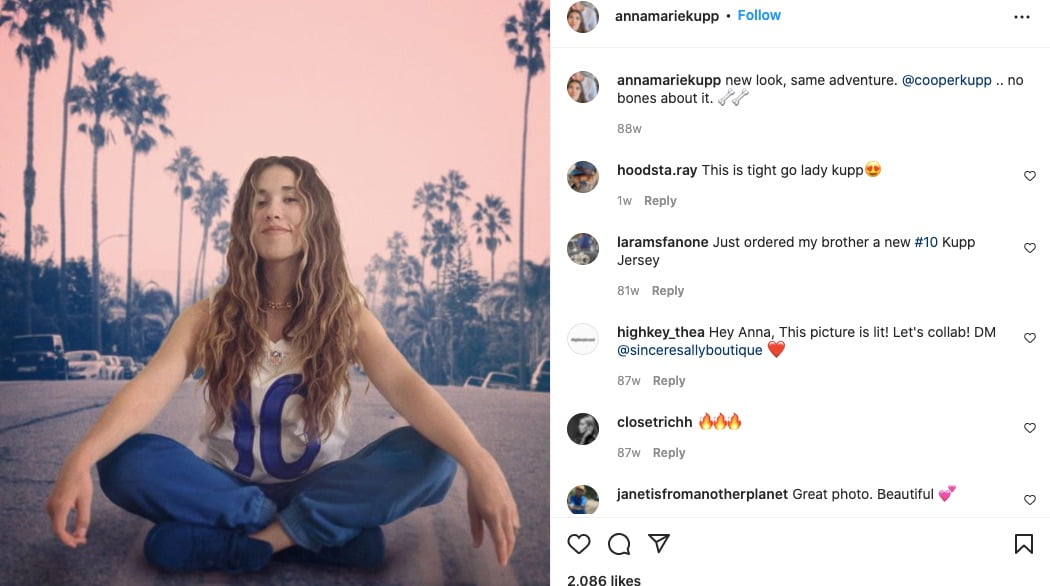 She was born Anna Marie Croskrey on March 22, 1994, in Kennewick, Washington; to Nathan and Veronica Croskrey (nee. Zalles). It seems that Anna has two brothers Matthew and Aaron and one sister, Sarah.
Mrs. Anna Kupp, graduated in 2012, from Richland High School in Richland, Washington, and subsequently went to Eastern Washington University, where she graduated with a public relations major and was a member of the Track & Field team; she also attended the University of Arkansas, before transferring to EWU.
Anna and Cooper met in high school, they locked eyes when she handed him a medal after winning a track & field event.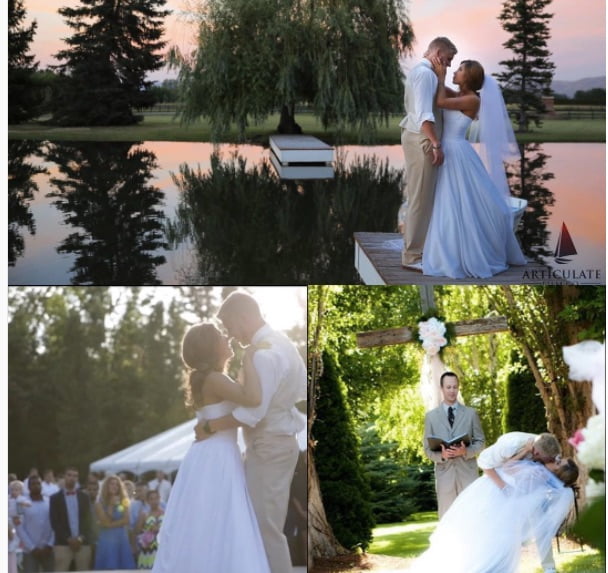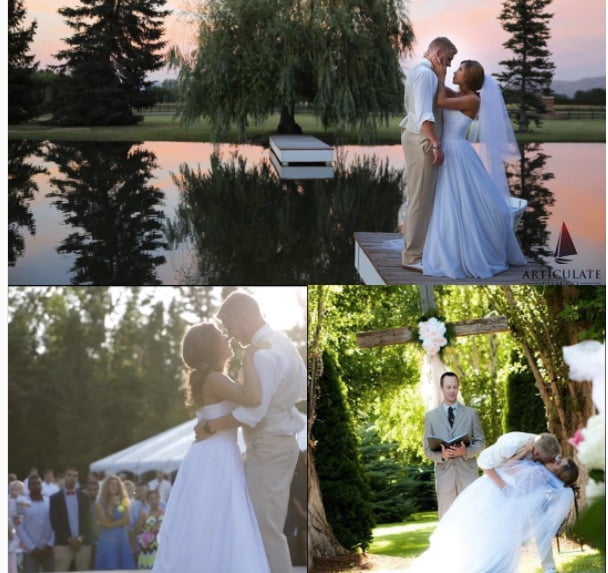 Anna and Cooper became engaged in the Spring of 2014 and tied the knot on June 20, 2015. They have since welcomed two beautiful children, Cooper Jameson Kupp, born on July 3, 2018, and Cypress Stellar Kupp, born on January 17, 2021.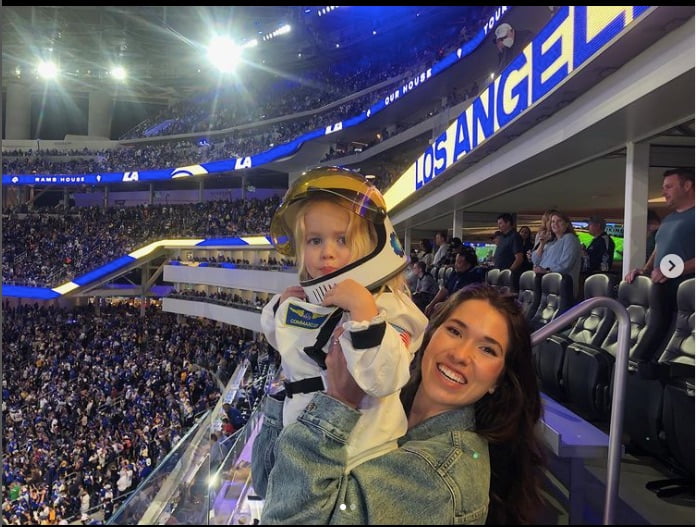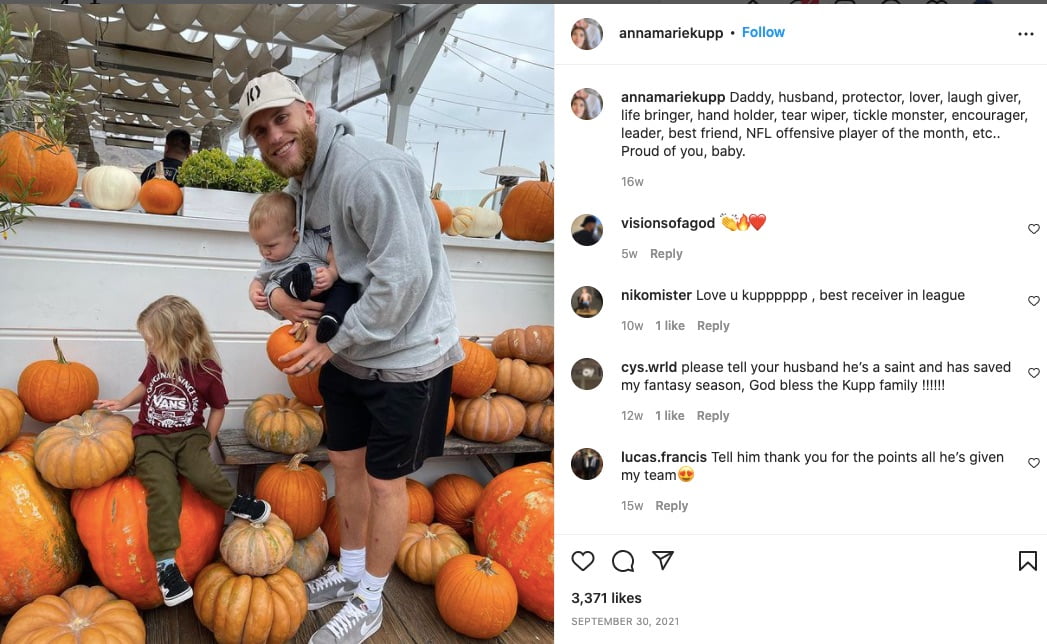 Follow Anna Kupp on Twitter here, and you can also find Anna Kupp on Instagram where she has over 15 K followers.