Corina Hitchcock
Corina Hitchcock is the lovely wife of NHL coach, Ken Hitchcock, her husband is one of the most awarded NHL coaches and is currently the man calling the shots for the St. Louis Blues.
Her hubby was born Kenneth S. Hitchcock on December 17, 1951. He has compiled a 657-405-178 record in 1,240 regular season games with Columbus, Philadelphia, Dallas and St. Louis during his NHL coaching career. In 18 seasons behind the bench, he has led his teams to 12 Stanley Cup Playoff appearances, seven division titles and a trio of second place finishes, while recording at least 40 wins 11 times and 100 points on 10 occasions. He has also led his teams to a 72-64 record in the Stanley Cup Playoffs, including a 16-7 mark in 1998-99 when he guided the Dallas Stars to the Stanley Cup.
Hitchcock began his NHL coaching career as an assistant coach with the Flyers from 1990-93. He moved on to take over as head coach of the Dallas Stars midway through the 1995-96 season, and in 1996-97, led them to the Central Division title. That year, Dallas became just the ninth team in NHL history to go from last place to first place in one season. Overall, Hitchcock spent parts of seven seasons in Dallas, leading his teams to five Central Division titles, two President's Trophies and two Western Conference championships, in addition to the 1999 Stanley Cup. He was nominated for the Jack Adams Award three times and served as the Western Conference's head coach in three All-Star Games.
The Canadian was named the 24th head coach in St. Louis Blues history on Nov. 7, 2011. In 2011-2012, Hitchcock guided the club to its first Central Division title since 2000 and was named the NHL's Jack Adams Award winner as the League's best coach, becoming the fourth recipient in Blues history.
In 2013-14, the Edmonton, Alberta native led the Blues to their third consecutive playoff appearance while becoming the third coach in Blues history to notch 100 wins on Jan. 2 against Los Angeles.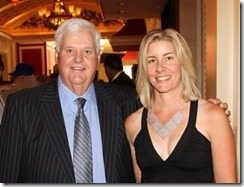 Corina Hitchcock is the former Corina Kelepouris. She also hails from Canada and like her hubby, is no stranger to sports. Mrs. Hitchcock is a former professional golfer. Though now retired, Corina Hitchcock remains a well known figure and in her native country.
In something that you would only describe as one of those destiny type situations, Corina is a hockey nut, and Hitchcock is an avid golf fan. Their friendship grew when when Hitchcock used some of his offseason down time to follow Corina on tour. They finally were tied down in 2011.
Corina Hitchcock became a professional golfer in 1998 and played pro for 10 years. Corina is also known for not only cheering her hubby at every single of his games, but also for being a player herself. The competitive nature in her made her try out for the sport in her 40's and finds it very exciting.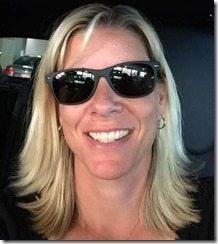 Corina Hitchcock is originally from Dayton Valley, she attended the Frank Maddock High School and went on to the University of Lethbridge and the University of Alberta, graduating in 1995.
Though her hubby is the big famous NHL coach, is Corina who does much of a coaching job at home. According to stltoday, the 43-year-old introduced Ken to the CrossFit training system that's key to helping him get, and stay, in shape. She also has him on the Paleo Diet. Basically: lean-meat proteins, berries, nuts, vegetables. To what Hitchcock refers to as, "caveman food."
Corina Hitchcock and her hubby currently reside in St. Louis with their 2 pugs, Billy and Buster.
You can find Corina Hitchcock on Facebook here.