Kelly Backes
Kelly Backes is the lovely wife of NHL player, David Backes. Her 32-year-old hubby is currently the captain of the St. Louis Blues.
The right winger was selected 62nd overall by the Blues in the 2003 NHL Entry Draft. Her hubby was born David Anthony Backes on May 1, 1984. The Minnesota native became at 28, the captain of the Blues but his story begins at Spring Lake Park High School, where Backes was named a finalist for the 2002 Minnesota 'Mr. Hockey' and his retired number 5 is proudly displayed at Fogerty Arena.
According to his own website, David soon made the jump to junior hockey where he logged impressive numbers over two seasons for the Lincoln Stars. During his two years in the USHL, Backes totaled 90 points in 87 games and was voted a 2002-03 All-USHL First Teamer.
He continued his rise to NHL by attending Minnesota State University-Mankato. While in college, he was named to the 2005-06 ESPN Academic All-American First Team along with 2005-06 Men's Division I West All-America Second Team honors.
Since making his NHL debut with the Blues on December 19, 2006, Backes has brought consistent, two-way play to the table. But that's not all, he represented the United States at four major tournaments in four consecutive years. He competed on three American teams at the IIHF Ice Hockey World Championships and was a member of the 2010 U.S. Olympic roster that claimed the silver medal at the Vancouver games.
In 2011, he participated in the NHL's 58th All-Star Game recording three assists in his All-Star Game debut.
The hokey as is also passionate for the welfare of animals, an interest he shares with wife, Kelly Backes –who grew up around animals –and that has translated into their foundation, Athletes for Animals. Kelly also attended college at Minnesota State-Mankato.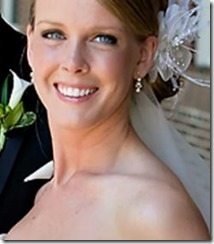 Kelly Backes was born Kelly Knapp. She and David tied the know in 2008. A nurse by profession, Kelly Backes always had the habit of taking stray dogs home. In May 2009, Kelly found a stray boxer that she discovered was pregnant. They already had two dogs and two cats that Kelly had rescued, so David said they could foster the dog only if she agreed not to keep the puppies. When the mother went into labor, they realized first puppy was stuck, and rushed to the animal hospital. Twelve puppies were delivered via C-section, while Kelly and David stood by to help clean them off. The mother was later adopted, as were all of the puppies.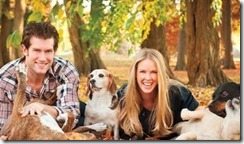 Together they founded Athletes for Animals in 2013 and are tireless advocates for homeless pets. But Kelly Backes is not only an extraordinary partner in the philanthropic endeavors of helping animals along with her famous hubby.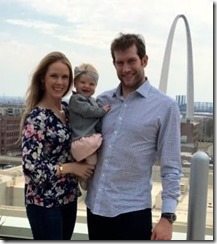 The blonde has been described as one of the hottest Olympic hockey wives and most recently she and her hubby can add a new roles to the list, that of being parents.
On June 25, 2015, Kelly Backes gave birth to a healthy baby girl, whom the couple named Stella. Kelly and her family have at least nine pets, including, dogs and cats and are all rescue animals.