Meet Cristin Stuart, now better known as Mrs. Thompson, the wife of NHL player Nate Thompson who plays for the Anaheim Ducks. Her 30-year-old center man hubby helped the Ducks in a 4-1 victory Sunday against the Chicago Blackhawks in Game 1 of the Western Conference Final!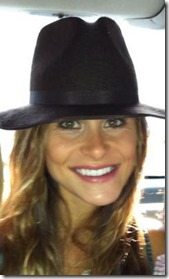 Cristin was born March 7, 1986; she is originally from Rochester, Minn. She is the youngest of Michael and Nancy Stuart's four children.
Pretty Cristin attended Boston college where she enrolled in the College of Arts and Sciences. She served as president of the Student-Athlete Advisory Committee as a senior, according to her college profile.
Cristin is a former standout on the Boston College women's hockey team, so you ought to wonder, is there friendly competition between the two on the ice?
During an interview, Nate said: "We skated together for the first time last year during the lockout when I was playing in Alaska. There was a little bit of competition. She put the skates on and she kept saying she was rusty but I disagreed. I thought she still looked pretty good. She's a great skater. Every now and then we talk about hockey but she's good about it and doesn't bring it up very often. She jokes that she's retired for a reason. But it's really cool to be able to say that your wife played hockey as well."
Cristin also happens to be the sister to current Winnipeg Jet defenseman Mark Stuart. Brothers Michael and Colin also play professional hockey.
The couple tied the knot in 2013 and they are currently expecting their first child!
Cristin and her hubby currently reside in Tampa, FL.
You can find her on Twitter here.