Meet Danielle Jackson
Danielle Jackson is the hot wife of Seattle Seahawks Running back, Fred Jackson. Reports say, her 34-year-old vet NFL player hubby was in a car accident where he wrecked his car!
Media outlets say, Fred got into the accident following Tuesday's practice. There are two version of what went down. According to TMZ, Fred was drag racing with superstar Marshawn Lynch on a public street right outside the team's practice facility when the wreck occurred. Jackson apparently lost control of his car and "smashed into a larger planter box and then a stop sign."
But as reported on the Seattle Times, a police spokesman said: "There is no evidence he was drag racing anyone. He was leaving the facility, and he was clearly driving too fast when he hit a street sign."
More importantly, the NFL player walked out without a scratch. NFL wife, Danielle Jackson sure is relieved! She even managed to make a little joke on her man's expense by tweeting:
Thankful @Fred22Jackson is completely okay and nobody was hurt. Best driver in the family goes to…. me! Followed by our 6yr old. #toosoon
Danielle Jackson and her hubby have been married for nine-years. She became officially Mrs. Jackson in 2006 and is also the mother of their four-kids. Danielle Jackson gave birth to Jaeden Jackson, Braeden Jackson, Kaelen Jackson, Maecan Jackson.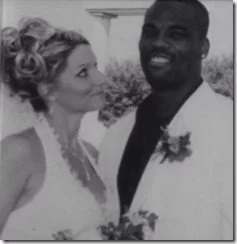 Fred Jackson's football career started at Lamar High School in Arlington, Texas. Her hubby played at the Division III college level at Coe College in Iowa, where he was named to five All-American teams and was named MVP for the Iowa Intercollegiate Athletic Conference.
He graduated from Coe in 2003 with a sociology degree.
Fred was unable to break into the NFL out of college, but went on to play for the Sioux City Bandits, a professional indoor football team. He then went to play for NFL Europe. By 2006 his name was called up by the Buffalo Bills.
Fred spent nine seasons with the Bills before joining Seattle last September. Fred's the oldest running back in the NFL.
Danielle Jackson and her family have lived for the most part of her hubby's career in Buffalo. During an interview she said, the kids loved to dress in their football shirts to support their dad, she is a fantasy football enthusiast herself. Danielle Jackson is also a supporter of her hubby's D3 Nation initiative.
The blonde, is not you're your stereotypical superstar wife. Danielle seems pretty much down to earth, nice and very attentive to her kids.
You can find the lovely Danielle Jackson on Twitter here, Instagram here.