Danielle Shoemaker
Danielle Shoemaker is the lovely wife of MLB pitcher, Matthew David Shoemaker, better known as Matt Shoemaker from the Angels of Anaheim. Her 29-year-old husband suffered a fractured skull after being hit in the head by a line drive.
The Angels right-hander ended at a local hospital after a 105-mph line drive hit by Kyle Seager impacted Shoemaker in the right side of the head. Though the Angels defeated the Mariners 4-2, it was a bittersweet moment for Danielle's hubby who had to stayed in Seattle to see a neurologist and was to be examined overnight.
This is the kind of frighten episodes the wives of famous athletes have to hold their breathes. Danielle Shoemaker, born Danielle Gomez, is a seasoned wag by now.
She and her husband have been married since 2009. Together they are the parents of one child. Danielle Shoemaker and her man welcomed their first child, a son, whom they named, Brady in January 2015. The family of three are also owners of a bulldog named Samson.
Danielle's bearded husband, was born September 27, 1986. They are both Michigan natives. According to her Facebook page, she hails from Rockwood, Michigan.
Is clear to see, Danielle is her man's biggest and most devoted fan. The wife and mom of one is totally dedicated to her family. While taking care of her toddler baby boy, she keeps active on Twitter by sending little support tweets to her man. And how can we forget when two years ago, she had to apologize for tweeting "Middlebrooks you butthole." At the time the Boston Red Sox third baseman Will Middlebrooks had broken up Shoemaker's no-hitter.
She received a ton of critics on her Twitter account but what people don't understand is just how passionate Danielle Shoemaker is about her hubby. Accoridng to playerwives, this MLB wag, could tell you all of his statistics month-to-month.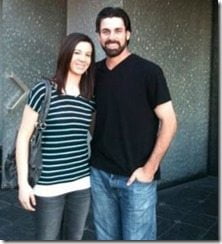 Danielle's husband attended EMU and went unselected in the 2008 MLB Draft. He signed with the Angels as a free agent, and pitched in Minor League Baseball through 2013. He made his big league debut September 20, 2013.
According to CBS sports, it was only two years ago that he finished second in the AL Rookie of the Year voting behind Jose Abreu. He went 16-4 with a 3.04 ERA (118 ERA+) that year before slipping to 7-10 with a 4.46 ERA (85 ERA+) last season.
The improvement Shoemaker has made this year, going from awful in his first six starts to great in his last six starts, is not necessarily a fluke. He's made a tangible change to his pitch selection.
We wish Danielle's hubby a full and speedy recovery. In the meanwhile you can check her out on Twitter here.