Don Hill
Don Hill was, until a few hours, a football defensive end in the roster of the USC football program. Reports say, the school has officially pulled him from the season opener in Dallas this weekend.
20-year-old Don Hill seems to be in a whole lot of trouble, the decision of USC officials to yanked him from the season opener comes for his alleged involvement in a rape case!
According to TMZ, a search warrant claims Hill and his fellow USC teammate, Osa Masina, are both linked to a rape investigation case. The accuser claims she was intoxicated during the July 14th incident, however she does remember bot Hill and Masina having with her.
And that's not all, the accuser also claims Osa recorded the incident and Snapchatted it to her ex-boyfriend — a college football player at the University of Arizona.
The search warrant was used to obtain a DNA sample and search Masina's phone, according to the report.
Masina has been indefinitely suspended by the Trojans. Neither Hill nor Masina have been arrested or charged with a crime.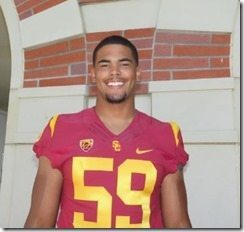 Don Hill was born January 4th, 1996 in Boise, ID. He attended Timberline High in Boise. As a 2012 junior, he made All-Southern Idaho League second team while getting 70 tackles, including 17 for loss.
During his senior year in 2013, he made the Prep Star All-Midwest and Tacoma News Tribune Northwest Nugget Best of the Rest despite missing most of the season due to injuries.
Don Hill joined the USC football team on the Class of 2014 Mid-Year Enrollees. According to his Trojans page, he sat out 2014 spring practice while recovering from a 2013 Achilles injury.
In 2015, Don served as a backup outside linebacker, as a redshirt freshman in 2015 he appeared in five games and had 7 tackles, including 0.5 for loss of 1-yard. He had 3 tackles against Idaho and UCLA and 1 versus Stanford. He won USC's Defensive Service Team Player of the Year Award and Lifter's Award.
This season, things have taken a different turn. Hill was suspended from the team during the spring for an off-the-field incident. According to Scout.com, the sociology major was also arrested for a DUI in his hometown during USC's winter break.
If Don Hill has a girlfriend, it's pretty sure to say she will need a lot of explanations. If he doesn't, he might have a hard time to get one after this. Thoughts?