Darnell Nicole
Darnell Nicole is the long time girlfriend of NFL player, Reshad Jones. Her 28-year-old beau is currently a safety for the Miami Dolphins.
Reshad Monquez Jones was born February 25, 1988 in Atlanta, Georgia. Jones attended Booker T. Washington High School in Atlanta, Ga. During his senior year he earned AAAA All-State and Defensive Player of the Year honors.
He went on to play college football at the University of Georgia and was selected in the 5th round of the 2010 NFL draft.
He made his NFL debut in 2010 for the Miami Dolphins.
According to Over The Cap, Jones is set to earn roughly $7.2 million in base salary next year and then a little under $7.1 million in 2017.
Jones is coming off the best season of his career. The 28-year-old recorded 135 combined tackles and intercepted five passes in 2015, and Pro Football Focus graded him the 13th-best safety (83.3).
It seem Jones has his career under control and it looks like his personal life isn't doing bad either. He has been in a relationship with lovely 31-year-old Darnell Nicole for a few years now.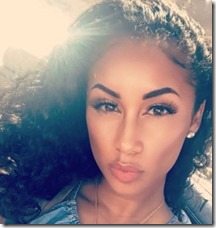 Darnell Nicole is also his baby mama. Back in 2013, Jones threw her a baby shower on a yacht! Now, that's what being a WAG is all about. Darnell and Jones welcomed their baby girl Carson Cree Jones, on September, 2013.
Darnell met her man and baby daddy while attending college. She studied at Clark Atlanta. Darnell is a writer and actress. She appeared in the movie "Kiss the Bride" with Reagan Gomez and Persia White from of "Girlfriends."
According to her bio on Star Talent, the lovely mom of one was born in Louisiana but raised in Texas. At age 18, she moved to ATL to attend Clark Atlanta University where she received a Bachelor's in English in 2007.
She writes:
I am an actress, writer, choreographer, and model. My goal is to expand more into film as most of my work is in theatre… I have three plays under my belt thus far, two in the making, and loads of poetry. As a dancer/choreographer, I am trained in ballet, jazz, hip hop, and modern dance…
Darnell and her man are one of the couple's that will be featured in the reality spin-off series WAGS MIAMI. According to E! the couple have known each other for five years and are currently engaged! About time huh!
You can check out gorgeous Darnell Nicole on Instagram here.