Meet Dawn And Stacy Elliott
Dawn And Stacy Elliott are the proud parents of former Ohio State running back Ezekiel Elliott. Their son is the 6'2″ running back for the Dallas Cowboys.
According to his profile, Elliott was a consensus four-star prospect (ESPN, Rivals, Scout, 247Sports) and one of the Top 100 prospects nationally with overall rankings of No. 47 by Scout, No. 70 by 247Sports, No. 84 by Rivals and No. 109 by ESPN … also ranked fourth, ninth, 11th and 12th among running backs by 247Sports, Scout, ESPN and Rivals, respectively. He was named to the U.S. Army All-American game.
Elliott capped his high school career by winning four state championships at the Missouri Class 3 state championships in 2-1/2 hours (in the 100, 200, 110 high hurdles and 300 hurdles).
Elliott, currently a junior, rushed for 1,672 yards and 19 touchdowns this season. He announced he would be foregoing his senior season and would declare for the NFL draft in late November.
The 6 ft 1 in, 225 lb player, took to Twitter to comment about the report, saying:
You guys are ridiculous … Lol
— EzekielElliott#⃣1⃣5⃣ (@EzekielElliott) December 28, 2015
But Ezekiel's talent runs through his veins. Elliott's father, Stacy, and mother, Dawn, were each student-athletes at and are graduates of the University of Missouri with Stacy a football player and Dawn a member of the track and field team.
Dawn and Stacy Elliott are also the parents of Ezekiel's two younger sisters: Lailah and Aaliyah Elliot. All pictured below.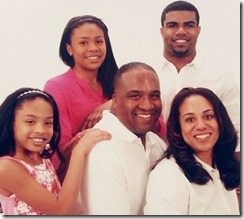 According to STLtoday, Stacey Elliot, as a linebacker during the bad old days in Missouri. He played on teams that compiled a 12-31-1 record.
You can take a look at Dawn Elliott's Instagram here.