Deadra Whitley
Deadra Whitley, this incredible lady is the beautiful and proud momma of NFL player Thomas Rawls, the running back for the Seattle Seahawks.
Thomas Rawls doesn't seem to have a girlfriend right this moment, (unless you know something we don't) but that doesn't mean there is no special lady by his side, which is why we are here today to tell you all about Momma Rawls!! well,  actually momma Deadra!
Prior to the NFl, Rawls played college football at Central Michigan and with the michigan Wolverines football team at the University of Michigan in Ann Arbor, Michigan.
I bet you all know all about the great Thomas Rawls? Just in case you don't, check this interesting facts about him.
Born Thomas Ty Rawls in Flint, Michigan on August 3, 1993, to Thomas Terell Rawls and DeadraWhitley.
Graduated from Flint Northern in Flint, Michigan in 2011.
In February, 2011 committed to the University of Michigan, transferred to Central Michigan University three years later.
Signed with the Seahawks on May 2, 2015 after going undrafted in the 2015 NFL Draft.
Rawls was close to his beloved grandma Diane Rawls, who passed away on March 22, 2016 from breast cancer.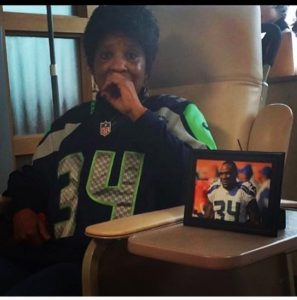 With that neatly noted, shall we tell you what we know about his lovely mom?
Rawls' mother was born Deadra Uvette Whitley in June, 1968.
She graduated in 1986 from Bridgeport High School.
Deadra is the proud momma of three incredible children, Thomas Rell Rawls, Thomas Ty and daughter Onnise.
Mrs. Whitley describes herself in Twitter a local Dj in Flint Michigan Dj Wipdee/Arts and Craft/ & Computer Repair Service.
You can follow her on Twitter here.
Share your thoughts in the comments box below!! but not before you check out Rawls' photos and video with his mom and family below.