Helen Marrone
This beautiful lady is Helen Marrone; she is the lovely wife of NFL coach Doug Marrone. Her man is the head coach for the Jacksonville Jaguars. Prior to joining the Jaguars' coaching staff in 2015, coach Marrone worked with the Buffalo Bills and Syracuse University before that.
No doubt you all know all about Helen's husband; therefore allow us to tell you what we know about his lovely wife.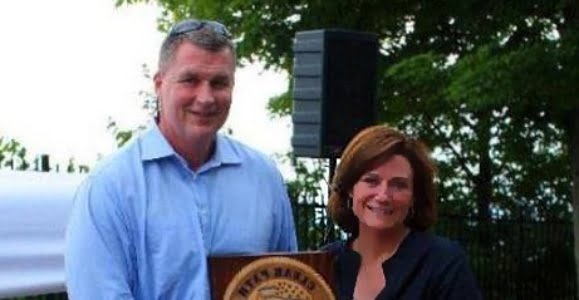 The first thing you need to know is that Mrs. Marrone, formerly known as Helen Mary Donnely was born in Murfreesboro, Tenn. on December 31, 1969; she is one of the children born to Carole and James Donnely, ages 73 and 74 respectively, and also proud parents of Helen's siblings, Bunny and Lauren. Her old man James "Boots" Donnely a former football coach, who for a long time coached at Middle Tennessee State University.
Meeting Doug
Helen, a Boston College graduate, attended law school in Memphis when she met Doug; who at the time was an assistant at Northeastern, visited a Boston tavern regularly. It was at that some tavern that she met Doug.
The story tells that Doug wrote that he was looking for a girlfriend on a napkin that he passed around the table; the napkin landed on Colleen's hands, Helen's roommate who declared she knew the perfect match for him.
"Oh my Gosh, I've got the perfect girl for you. She was my roommate at [Boston College] and is in law school now in Memphis. You've got to meet her."
Therefore, he got Helen's digits, called her and they went on a date and well the rest is history.
Furthermore, Helen and Doug Marrone dated for a couple of years, during which she finished law school and worked as an assistant district attorney in Nashville; Doug, on the other hand, knew Helen was the girl he wanted to spend the rest of his life with, so the next step was popping the question, but not before he had his father in-law's blessing.
"He talked to me about marrying my daughter and I simply said, 'I don't think that will happen,' " Boots Donnelly said.

"I said, 'The girl's going to get a law degree and surely she has more sense than to marry a football coach.' But he did some good recruiting on her."
And she said Yes!! Helen and Doug tied the knot in July 1999. Nowadays, they have three incredible children, son March, and daughter Madeline and Anne.