Meet Roandy Volquez
Roandy Volquez is the wife of 32-year-old MLB player, Edison Volquez. Her husband is currently a pitcher of the Kansas City Royals.
Before arriving to Kansas City, Edison pitched for the Texas Rangers (2005), Reds (2008-11), Volquez has also pitched for San Diego (2012-13) and Pittsburgh (2014).
It's a bittersweet time for the Volquez family as we learn of the passing of Daniel Volquez, Edinson's 63-year-old father. It's good to know Roandy Volquez is there to support him during the difficult time.
Roandy Volquez who is also a Dominican Republic native is also the mother of the couple's twin daughters. Roandy Volquez gave birth to Eylin and Aylin, on November 5, 2013. They have been together for over a decade.
Roandy Volquez and her husband have sure gone through a lot together. In 2010, her man was suspended for 50 games after he tested positive for a banned substance. In a statement, the then 26-year-old Volquez, vehemently denied the claims that he had been taken PEDs, saying that he had received a prescription in the Dominican Republic as part of a fertility treatment to start a family with his wife.
According to Playerwives.com, Roandy Volquez had already lost a child and the couple was trying to get pregnant again.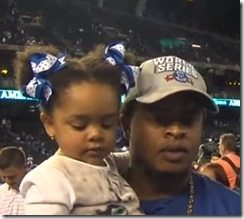 Now, the family is hit with the news of Daniel Volquez's death and it couldn't come at a worst time. Roandy Volquez had to make a difficult choice thinking probably on what was best for her husband.
It was her, who asked the Royals management not to tell Edinson of his father's death, until he was done pitching for what many call, Edinson Volquez's biggest start of his life.
Though some reports seem not clear on whether Edinson knew or not about his father's death going to the mound, Roandy request was to 'let him pitch.' And he did.
Edison Volquez allegedly, didn't learn of his father's passing until he finished his pitching. He allowed three runs on six hits and a walk with three strikeouts over six innings in Game 1 of the World Series.
He and Roandy left the game a few  hours before it's exciting ending. The Royals eventually won, 5-4 in 14-extremely-competitive-innings.
Assuming Edison had no clue about his father's death, was Roandy Volquez right to withhold the sad news from her hubby?
When Roandy isn't cheering for her man front row, she and her hubby usually spend the offseason in Santo Domingo with the rest of their family.
We send our condolences.