Daniel Volquez
Daniel Volquez, the father of MLB right-handed pitcher Edinson Volquez sadly passed away and wasn't able to watch his son, pitch the first game of the Series.
Nobody saw it coming, but last night as the Royals and the Mets faced each other, both teams made history in a super aggressive game that took 14-exciting-innings to be defined.
Media outlets say Daniel Volquez, succumbed to heart disease in the Dominican Republic. He was 63-years-old.
32-year-old Edison Volquez didn't learn of his father's passing until he finished his pitching. He allowed three runs on six hits and a walk with three strikeouts over six innings in Game 1.
In December of 2014, the Royals signed the then-free-agent, Volquez, to a two-year deal with mutual option. Before arriving to the Kansas City, Edinson Volquez enjoyed a career year in 2014 with Pittsburgh, going 13-7 with a 3.04 ERA (65 ER in 192.2 IP), holding opposing hitters to a .235 batting average.  His ERA ranked 15th among qualifying National League starting pitchers, while his 7.75 hits allowed per nine innings ranked eighth among the league's starters.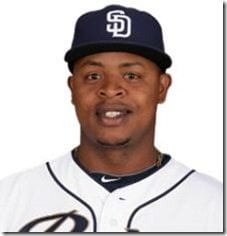 Volquez began his 11th Major League season in 2015, after debuting for the Texas Rangers in 2005.  The righty is 66-59 with a 4.44 career ERA, holding opponents to a .252 batting average.
He was a National League All-Star and finished fourth in the league's Rookie of the Year voting in 2008 with Cincinnati, posting a career high 17 wins, going 17-6 with a 3.21 ERA and 206 strikeouts in 196.0 innings.  He was originally signed by Texas as an undrafted free agent in 2001.  Along with the Rangers (2005-07) and Reds (2008-11), Volquez has also pitched for San Diego (2012-13) and Pittsburgh (2014).  He has also pitched in the World Baseball Classic twice for the Dominican Republic, helping them win the tournament in 2013.
A native of Barahona, Dominican Republic, Volquez resides in Santo Domingo during the offseason with his wife, Roandy and twin daughters, Eylin and Aylin, who were born November 5, 2013.
It was precisely Volquez's wife, Roandy, who asked the Royals not to tell her husband of his father's demise. The mom of two, spoke to Royals general manager Dayton Moore and asked him not to say anything to Edinson until he was done pitching. And it was exactly how it went down.
Though the Royals would eventually win, 5-4 and Edisnon Volquez helped his team with the favorable outcome, the news of Daniel Volquez's death sure puts a sour taste to the final score.
Did the Royals made the right move in keeping the death of Daniel Volquez from his son, so he could pitch what could have been the biggest night of his career?
Comment below!