Emily Love
Emily Love is the beautiful, young sister of NBA player Kevin Love, the handsome power forward player for the Cleveland Cavaliers.
Emily's big bro Kevin Love was born September 7, 1988 in Santa Monica, California. He attended Lake Oswego High School in Oregon and UCLA, he was selected by the Memphis Grizzlies in the 1st round (5th overall) in the 2008 NBA Draft. Love played with Minnesota from 2008 to 2014 when he was traded to the Cleveland Cavaliers.
22-year-old Emily Love the younger children born to Karen and former NBA player Stan Love, her older brothers are Kevin and Collin, 29.
Emily's dad Stan, was chosen by the Baltimore Bullets with the 9th pick in the 1971 NBA Draft. Emily Love comes from a famous family, not just athletically speaking, but musically speaking as well, her uncle is Mike Love founding member of the Beach Boys and her uncles are Brian Wilson, Carl Wilson, and Dennis Wilson, the other members of the Beach Boys.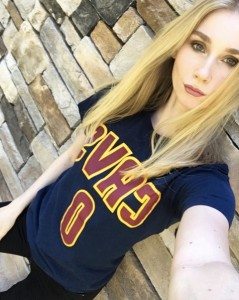 There isn't much info besides what the lovely Emily an avid equestrian who apparently and is no wonder works as a model from time to time, she is good friends with Hunger Games actress Willow Shields.
Follow Emily Love on Twitter here