Grace Allen
Grace Allen is the lovely and supportive wife of NFL player, Ricardo Allen. You may know her man as the badass safety for the Atlanta Falcons. Did you know he has been married to wife Grace since 2015? Want to know more about her? We bet you do!
First some interesting facts about her man. Grace's hubby was born Ricardo Jamal Allen on December 18, 1991. The Daytona Beach, Florida native gained media attention while playing at Purdue.
According to his website, in 2012, during his junior year, Ricardo broke the school's record for interceptions for touchdowns. He was a second team All-Big Ten Conference selection.
During the 2014 NFL draft, Allen was drafted by the Atlanta Falcons in the fifth round (147th overall). 2014 was definitely a good year for his career, he signed a four-year contract with the Falcons and was added to the teams active roaster.
In 2015 he became the Falcons starting free safety. He gave the Falcons a win after he intercepted a pass while playing against the Philadelphia Eagles.
He played in 15 games with 14 starts in 2015, finishing the season with three interceptions, one sack, one fumble recovery, and five passes defended.
But behind every athlete's great motivation, there's a gorgeous wag to along. In Ricardo's case, that would be his lovely wife, Grace Allen.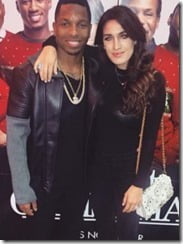 Born Grace Quattrocki, she met Ricardo during the summer of 2012 in West Lafayette. They were introduced through mutual friends and have been inseparable ever since. As a funny anecdote, Grace says the day she met Ricardo, she accidentally called him 'Albert' for about two hours straight. In her defense she reveals on the couple's wedding site, they never had a proper introduction.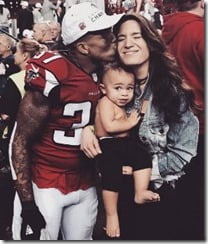 Grace Allen graduated with a Master of Public Health degree from Purdue University. The pair have been supportive of each other since the time they were boyfriend and girlfriend. Together they have obtained degrees, got drafted and moved acrross the country.
The pair tied the knot on July 11, 2015 in Buford, GA. Since then they have welcomed one child. Grace Allen gave birth to a son, Luca James Allen in early 2016.
As we can imagine Grace currently spends her time between attending games and attending the couple's baby boy.
You can follow the lovely Grace Allen on Instagram here.