Meet Heidi Rhoades
Heidi Rhoades is the long time partner of Jillian Michaels –one of America's most famous fitness experts.
According to her bio, she attended California State University, Northridge while bartending at night to support herself. Jillian  worked as an agent at International Creative Management in Los Angeles but soon quit her job to pursue her dream of becoming a personal trainer. Since then, she has been extremely successful.
After opening her own spa with fellow fitness expert Jackie Warner; her big break came. In 2005 she was cast as a personal trainer on the NBC reality television show, The Biggest Loser. Now, Michael's –a former overweight child herself –has her own video workout series, a clothing line, a newsletter with millions of subscribers and several books.
Jillian also starred I her own show, Losing It With Jillian, that's her second weight loss-themed NBC reality show, which first premiered in 2010.
Heidi Rhoades and Jillian have two children together. Heidi Rhoades gave birth to their son, Phoenix Michaels Rhoades, on May 3, 2012. That same week, only days after the birth of Phoenix, the couple also adopted daughter, Lukensia Michaels Rhoades –who comes from Haiti.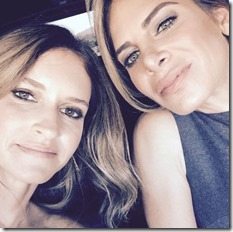 But Heidi Rhoades is not only Jillian's partner and mother of her children, she is also her fiancée. The couple recently got engaged and they did it in front of the camera. The tough-as-nails, no-nonsense trainer got down on one knee, during the season finale of her latest reality show, Just Jillian and proposed to Rhodes. They both put on gorgeous diamond rings, though Heidi Rhoades already had the one Jillian gave her back in 2012 –when it was first rumored they were engaged.
Heidi Rhoades hails from Pennsylvania. Rhodes is very private, accoridng to People, she was previously a music manager. And she worked with several artists, including Chantal Kreviazuk. She was also the publicity contact for the band Uh Huh Her.
Heidi Rhoades is not exactly a fitness guru like Jillian, but she is also into looking and feeling great. According to The Daily Mail, Rhoades is a yoga instructor now.
Heidi Rhoades has taken the role of a stay at home mom, while Michaels keeps on running her fitness empire. When Heidi Rhoades is not busy taking care of their two small children, she enjoys cooking and listening to music.
You can find Heidi Rhodes on Twitter here.