Iesha Carroll
Iesha Carroll is the lovely wife of NBA player, DeMarre Carroll whose team, the Toronto Raptors is currently tied 2-2 in the NBA playoffs with the Miami Heat.
Her hubby was born DeMarre LaEdrick Carroll on July 27, 1986. The Birmingham, Alabama native attended John Carroll Catholic High in Birmingham, Alabama; leading the Cavaliers to back-to-back Alabama Class 6A State Titles.
He had a successful sophomore year at Vanderbilt and then transferred to Missouri in order to play for his uncle. He picked up right where he left off at Vanderbilt and lead the Tigers to the Elite Eight in the 2009 NCAA Men's Basketball Tournament.
DeMarre was drafted in the first round of the 2009 NBA draft by the Memphis Grizzlies. During his rookie season with the Grizzlies, DeMarre appeared  in 71 games and averaged over 11 minutes per game to go along with 209 points for the season. In early 2011 he was traded to the Houston Rockets but was waived in April that year. He then played four games with the Denver Nuggets before being waived.
DeMarre was acquired by the Utah Jazz following, and quickly became a fan favorite. He appeared in 66 games for the Jazz in the 2012-13 NBA season.
In the 2013 offseason he signed a contract with the Atlanta Hawks, where he emerged as a team leader. DeMarre signed with the Toronto Raptors during his 2015 NBA off season.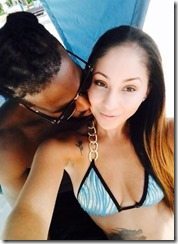 2015 was a big year for the couple, DeMarre not only signed with the Raptors, with the promise of a bigger roles in the team, but the day prior to his Raptors meeting he and Iesha Carroll had become husband and wife.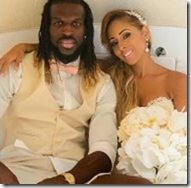 Iesha Carroll is also the mother of the couple's two children, two-year-old daughter Lailah and son Amare Isaiah Carroll, born earlier this year. The couple has obviously been together for years before they tied the knot. They are both pretty active on social media and Iesha Carroll sure keeps busy with her two young children.
Iesha Carroll sure looks like a fly girl, the mother of two has a dragon tattoo in her belly, how cool is that! She and her hubby also keep busy with the Carroll Family Foundation.
You can find Iesha Carroll on Facebook here.