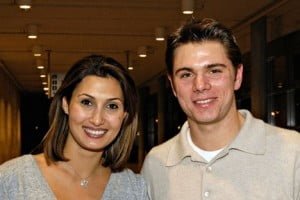 Iham Vuillould a Swiss television presenter, anchor and former fashion model is also wife to ace tennis player Stan Wawrinka ranks number 9 according the Association of Tennis Professionals (ATP), his best ranking so far! The couple married on December 15, 2009 at the Lausanne Palace Hotel in Switzerland. Ilham is 10 years his senior and gave birth to their first daughter on February 12, 2010 to a baby girl named Alexia. Well they certainly did not wait long to have children probably due to her age.
Back in January 2011 after only a year of marriage it was reported that he left Ilham and their little daughter to focus on his career on grounds as absurd as he had only five more years to make an impact! That sounds a little selfish to me, I mean if tennis' glory comes to the price of family I think there is something wrong with his priorities! She spoke to the media and said:
"Stan returned on September 20 after the Davis Cup in Kazakhstan and told me he had new priorities. He packed his bags and moved into a hotel. There would have been another solution, if he had spoken to me about."
Good news is  Ilham's confused and much younger hubby most likely realized he couldn't live without her and the couple have since reconciled. What do you think caused him to split from her? Was it too much for him? He couldn't handle the pressure?
It was certainly a rough time for Ilham, her world probably collapsed around her without any notice, but now everything has changed for the better again. About a year ago during the Davis Cup in Fribourg he confirmed the happy news saying:
I am very happy to you about bringing the good news: Ilham and I are back together
The couple pulled out the peace card and after a year of separation they surrender to their love! I just love a happy ending! Now Ilham is often seen on the court watching her hubby's games along with daughter Alexia.
You can find her on Facebook here.