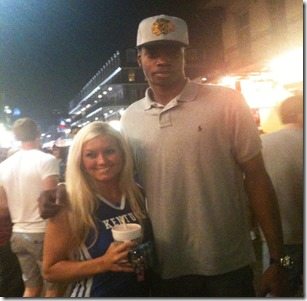 Blond beautiful and 29-year-old Valerie McCoy is hearted Kentucky fan Valerie from Ironton, Ohio went to New Orleans for the Final Four back and got to watch Kentucky win the national championship. However, she also got a chance to see recent UK signee Nerlens Noel, the nation's No. 1 ranked player. The talented 19-year-old was standing right in front of her and just like any other fan she ceased the moment! Who can blame her, she describes the magic moment: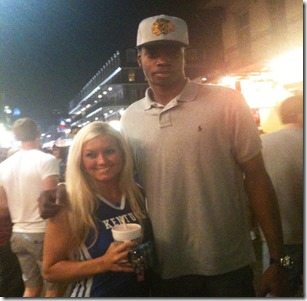 We had just defeated Louisville and now it was time to celebrate the win on Bourbon Street with BBN. Little did I know, the night was about to get even better. Nerlens Noel was in town! The future of Kentucky Basketball was standing right in front of me on Bourbon Street and I wasn't going to pass up the opportunity to show him love from a passionate Kentucky fan. He seemed like a giant standing next to me, but a very friendly and humble one. Along with myself, so many Kentucky fans were surrounding him with love and support with high hopes that he would choose us
She is a loyal promoter of Zumba and Go Red for Women fighting heart disease! Definitely digs physical activity something she and "the giant" in the picture have in common? So did things ended there or not really?? The point is the transcendental moment made her share the story back in April so maybe there's more to it?? Is that why the Haitian choose the ?
She reveals how people wonder how being from Ohio she is such a huge Kentucky fan but that is because Kentucky was actually the team where her brothers played. Just like her father she is a proud graduate of the University of Kentucky.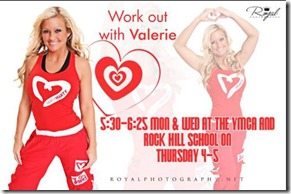 Her love of Kentucky Basketball is actually very moving, and it got deeper when at 19 years-old walked into Rupp Arena, one of her best memories is taking her dad to the games. She follows the team closely, practically breathing each game and move! What do you think obsession or just a simple fan?? Do you think they make a good couple?? By the way, there is a 10 year difference between this two.
No word about the relationship on his part though, they are not even friends on Facebook, so anyone interested in blond Valerie??
You can check her out on Facebook here.