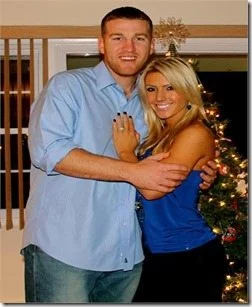 Meet Jackie Verdon she is the beautiful wife of Cincinnati Reds Third baseman Todd Frazier. The couple has been married for less than a year but have known each other for quite some time. Jackie grew up 20 miles away from Frazier in Freehold, New Jersey; she attended Rutgers University as a student-athlete just as Todd did.
She is a former Rutgers gymnast and the daughter of Cheryl and Kevin Verdon. Her sister Danielle Verdon is also a Rutgers gymnast who graduated last year majoring in Business Management. We can see a picture of both, captioned "This is what gymnast sisters do when they are home all together"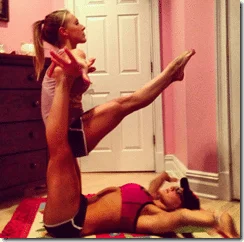 Back in 2006 when she was a sophomore, she was awarded the Most Improved Gymnast Award. Verdon missed her freshman season but returned in 2006 to make an appearance for the Scarlet Knights on beam.
Jacquelyn was part of the EAGL ALL-ACADEMIC TEAM back to back years from 2004 till 2008. She was also a member of the National Association Of Collegiate Gymnastics Coaches For Women Academic All-Americans in 2007.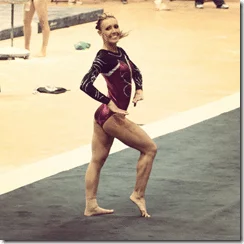 As we mentioned, the couple go from way back, they were long time boyfriend and girlfriend before tying the knot last year on December 14. Guests to their special day included teammate Brandon Phillips and close friend Harold Reynolds.
You need to hear about the proposal, it was truly something, they are so smitten they even have one of those our wedding websites, to tell you about the whole thing. Frazier had it all planned out and it went down in November 2011, here is how the now Mrs. Frazier describes her magical moment;
Todd and I were invited to go on a cruise in mid November.

It was a wonderful vacation that ended with a magical proposal.

We were leaving Mexico and Todd had asked me to take a walk before our last dinner. He brought me to the back of the ship –  No one was there and we just had the beautiful scenery of Mexico in the background, and he popped the question <3

It was such a wonderful moment for the both of us, and we were excited that there was a photographer right outside the place we were dinning so that we could capture the moment forever.
2012 was definitely big for the couple; they not only tied the knot but Jackie's man busted onto the Major League scene out of virtually nowhere to finish third in National League Rookie of the Year voting. Along the way he managed to save a man from choking to death, belted a home run without using his hands and earned his first trip to the postseason.
Nice lovely couple! You can find Jackie Frazier on twitter here.