Paige Holland
This lovely young lady is Paige Holland; the longtime girlfriend of NFL player Jake Luton. Her stud is the 6'6″ quarterback for the Jacksonville Jaguars, who previously played college football at Oregon State and Marysville Pilchuck High School in his hometown, Marysville, Washington.
Luton, the son of Heather and Judd Luton has three brothers, Jordan, Jaxxon, and Jace. After high school, he attended the University of Idaho; two years later he transferred to Ventura Colle and subsequently in 2016 transferred to Oregon State.
NFL Career
Luton graduated with a degree in innovation management in 2019; the following year the Jacksonville Jaguars selected him in the sixth round (189th overall) during the 2020 NFL draft.
He made his debut with the Jaguars on November 8, 2020, against the Houston Texans, he was filling for Gardner Minshew after he suffered a thumb injury.
He was the starting quarterback back again on week 10 when the Jacksonville Jaguars played against the Green Bay Packers; sadly Jacksonville lost both games, but Jake  26 of 38 passes for 304 yards with one touchdown and one interception, as well as a 13-yard rushing score against the Texans and d 18 of 35 passes for 169 yards with one touchdown and one interception against Aaron Rodgers and. the Green Bay Packers.
Jake played once against on week 11, against Big Ben and his undefeated Pittsburgh Steelers on November 23, 2020.
Who is Jake Luton's Girlfriend?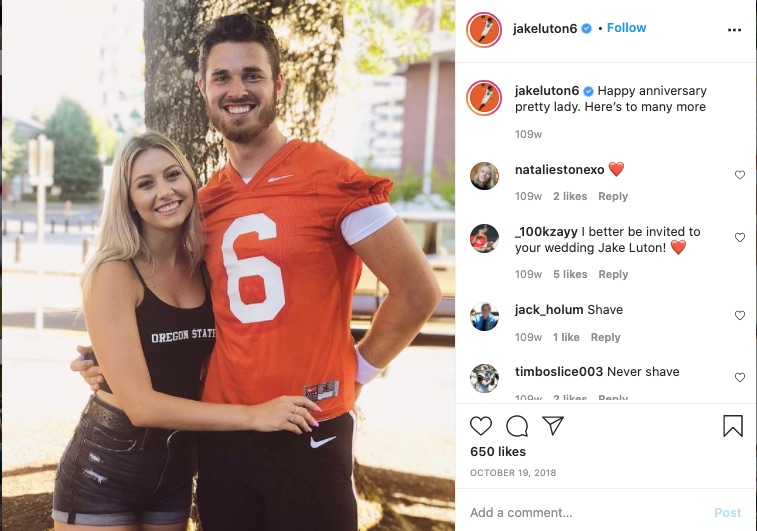 According to media Jake and his girlfriend, Paige Holland met while he was attending the University of Idaho, where Paige was also a student at. These lovebirds started dating on October 19, 2015.
Paige moved in with Jake while she also worked in Corvallis; she played an important role in his recovery after Jake suffered a thoracic spine fracture and a concussion against Washington State.
"Paige has been doing a real good job taking care of me," he says. "She's taken some time off work and been there for me whenever I've needed her help."
Jake's injury, was a very scary moment for his parents as well, especially when he lay on the field motionless. His father Judd commented about that moment.
"My first thought (after the tackle) was, 'He's going to hop up,' and he didn't," Judd said. "Then, after I ran down on the field, and he was still laying there and wasn't moving, all sorts of things went rushing through your mind.

"But none of them were as bad as when I got there and asked Jake a few questions and didn't get the answers I was looking for. It was scary."
After his recovery, Jake got to play once against Washington State in their stadium, the same where he suffered that horrific injury;  a bitter-sweet moment he would have thought it or emotional hangover other would describe it.
"My girlfriend (Paige Holland) asked me about it yesterday," the 6-7, 225-pound senior from Marysville, Washington, said. "I haven't put too much thought into it. The little bit I have, it's more excitement at the chance to come full circle.

"It's been a long journey coming back from that, but it's been a great journey. Being in this position — to get to go back to that spot and play in a big-time game — I'm really excited."
Mom' Heather knew exactly how his son was feeling about playing against Washington State.
"Jake is a very even-keeled person," said his mother, Heather Luton. "He never gets too up or down. He has always had a very good attitude about things. He's never been negative. If something bad happens, he moves on."
Paige Holland Quick Bio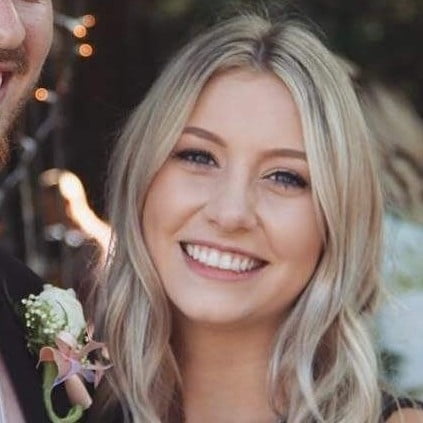 Paige Holland who now lives in Jacksonville, Florida with her beau,  is an independent marketing coordinator.
She holds a Bachelors Degree in Broadcast Journalism and Digital Media from the University of Idaho.
Paige is originally from Corona, California; she is one of two daughters born to Melanie and Robert Holland. also proud parents to their daughter Devyn.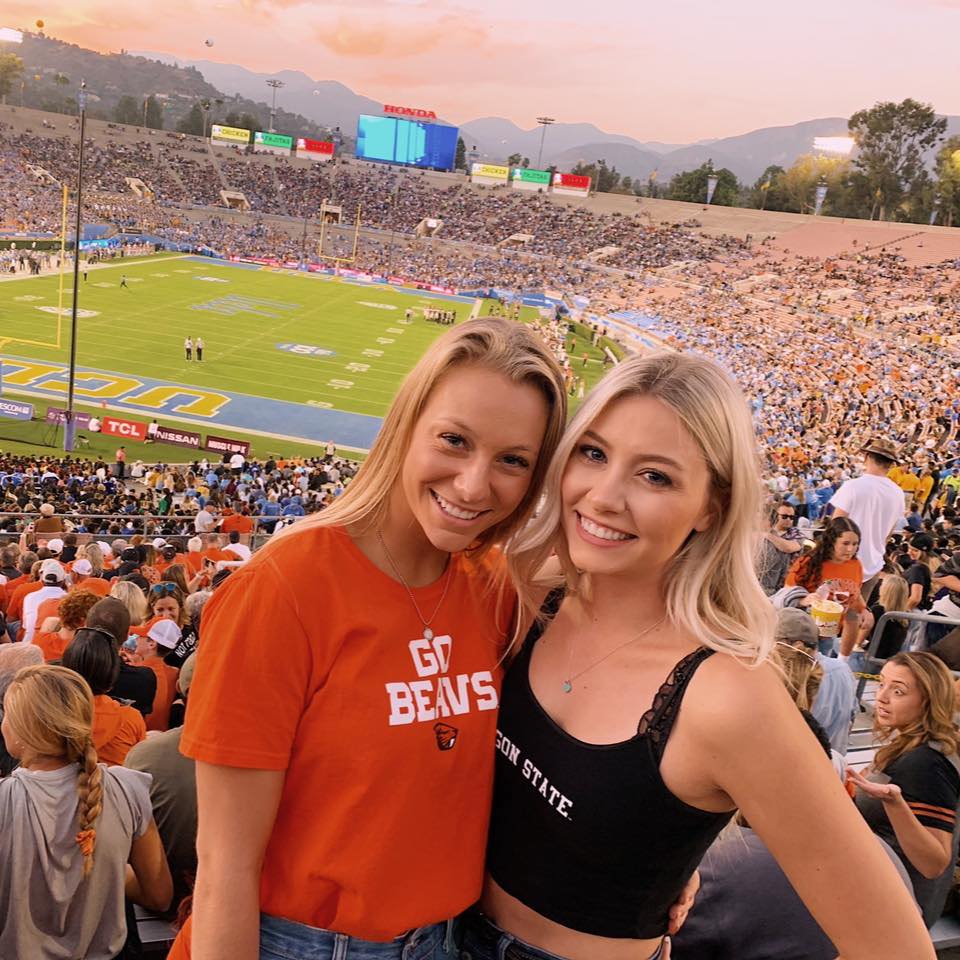 Her sister Devyn played volleyball at Chapman University; Devyn holds an Associate of Science degree in Mathematics from Orange Coast College, a Bachelor of Science in Mathematics from Chapman, and a Master of Arts in international relationships and National Security Studies from Park University.