Jalen Rose, former NBA player, now analyst for ESPN, father of  the beautiful Mariah Rose, and husband of who?? Do you who is the mother of Rose's daughter Mariah? Is he currently married? dating anyone?
Jalen Rose was born on January 30, 1973 in Detroit, Michigan to two-time NBA All-Star Jimmy Walker and Jeanne Rose. His parents met at a nightspot in West Detroit in 1972, Walker a married man never mentioned his marital status to Jeanne, and he abandoned when she became pregnant.
Jalen never met his father in  person, they spoke on the phone several times before he lost his battle to lung cancer on July 2, 2007, at the age of 63. Jalen has three older siblings (brothers Bill, Kevin, sister Tamara) from his mother side and one sister Jamesa Walker-Thompson from Jimmy's marriage to Mrs. Sandra Thompson.
Jalen's personal life has always been interesting and yet mysterious, we know he has just one child, beautiful daughter Mariah Rose, but what about the mother, Jalen's wife maybe? Who the is that Alexandra Rose? is she his wife? No, she is not!! let me tell you why.
Once he tweeted about a certain Alexandra Rose, the same Alexandra that some people said is or was his wife and Mariah's mom as well. Apparently he has never been married in the first place and there is no Alexandra Rose whatsoever.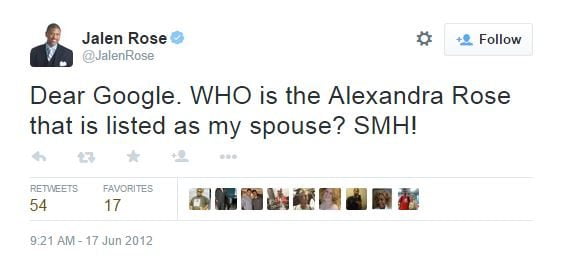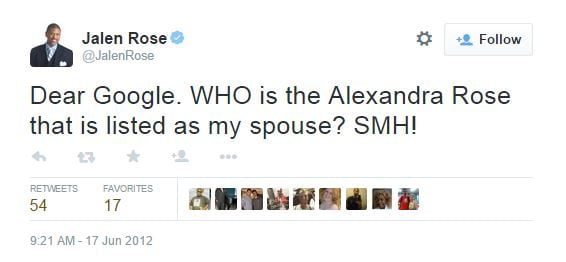 Some sites even claimed Jalen cheated on  the alleged non-existent wife Alexandra, with girlfriend Krissy Terry.
You can read about that here, and also here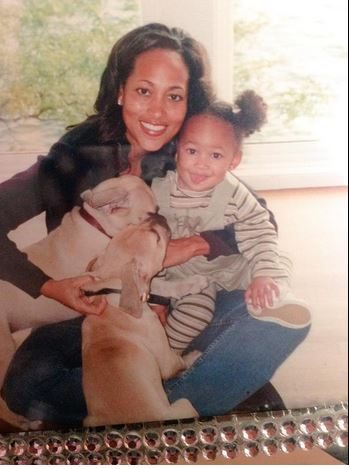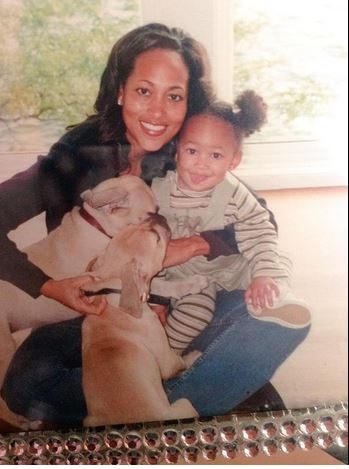 Jalen Rose became the proud father of his daughter Mariah Christian Rose born on July 14, 2000 in Indianapolis to Jalen and his then girlfriend Mauri Goens, who is also the mother of two more children.
47-year-old Mauri M. Goens born June, 1966 is a graduate of the American College of Applied Arts in Atlanta. Mauri was 23 and working as a loan officer when she became pregnant with her first child, Dee- the father was former Atlanta Falcons receiver Andre Rison.
Rison is the guy who dated Lisa Lopes the late TLC member also known as Lisa Left Eye Lopes, who burned down his mansion on June 9, 1994. Lopes turned herself in a day later, she was charged with felony, and given five years probation.
Lisa and  Andre rekindled their relationship, and even got engaged; sadly the wedding never happened, Lisa was killed in a car accident in Honduras in 2002.



But before that, Rison was named in a paternity lawsuit filed by Mauri in Gwinnett County Superior Court in July, 1991. They settled things about their son Dee out of court.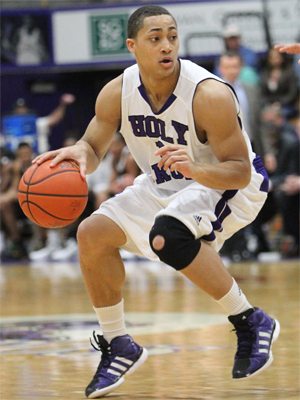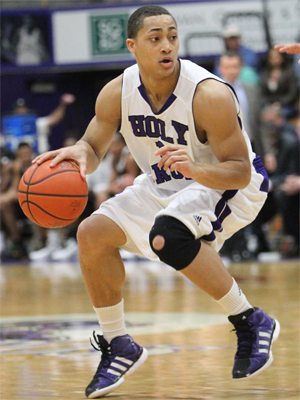 Rison and Mauri's son Dee Goens 6'0" became a star basketball player at Marist High School from where he graduated in 2009. Dee graduated from the College of the Holy Cross in 2013 with a bachelor of arts in philosophy, and a master of science, innovation, entrepreneurship and management in 2014 from the Imperial College London.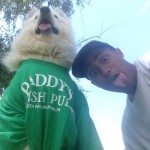 Indianapolis born Mauri Goens met Jalen in 1996 while he played with the Indiana Pacers, she moved in with him in August, 2009. After Mariah's birth in 2000, Mauri moved to Georgia in October, 2001 with her young daughter.
Between 2002 and 2003 Mauri and Jalen filed a petition over the paternity of Mariah in both Georgia and Indiana, the whole thing is way too long and awfully boring to talk about, but  to make things short, both share custody of their daughter and everyone is happy.
Now let's go back to Mauri and Jalen's daughter..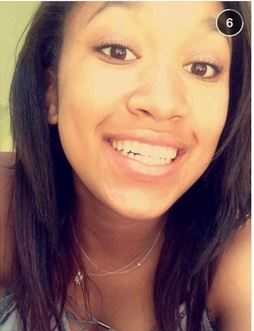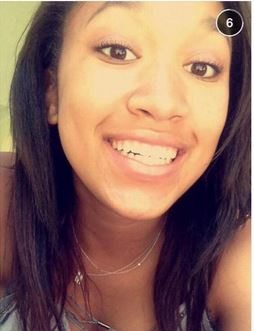 9th grader Mariah who stands at 5'7  is volleyball player at Greater Atlanta Christian School. Her mom Mauri who had one more child, a lovely girl named Grace is the co- creator of Karma Designs, along her partner Kendra Davis.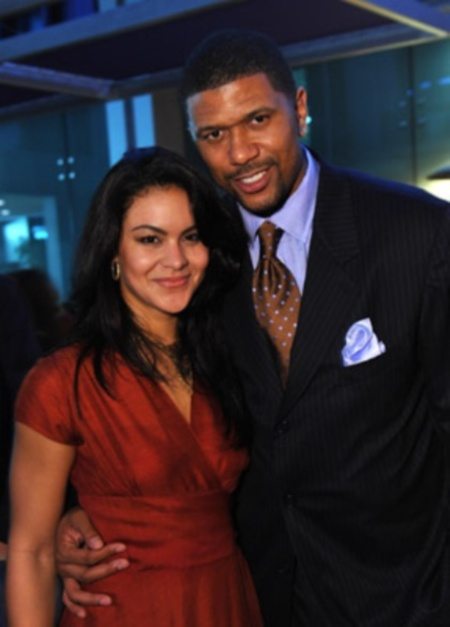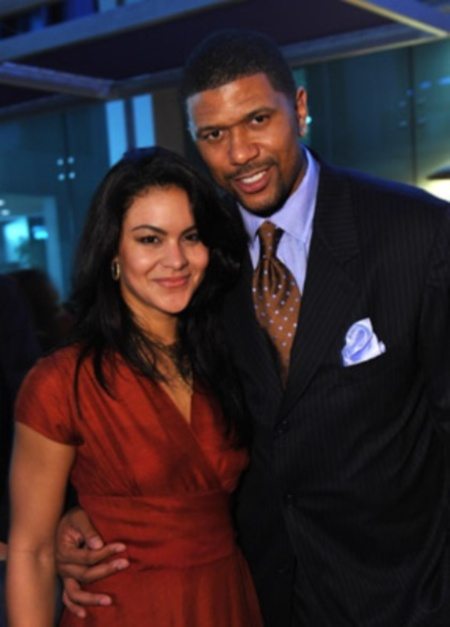 Moving on, a few years ago Jalen Rose was romantically linked to Ohio born actress and dancer Krissy Terry;  he confirmed he started dating Krissy on June 11, 2012.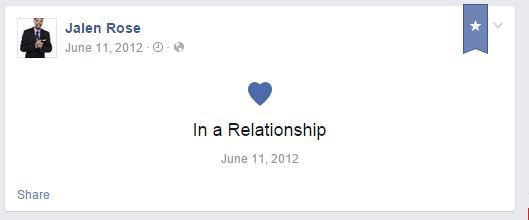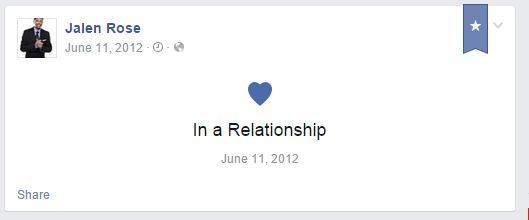 They were first seen together around 2009, back in 2012 Krissy became known for her roles in Rites of Passage, Stealing Las Vegas and Y: The Last Man Rising.
Some people said Jalen and Krissy split up, I have no idea if they are still together, the last tweets between these two was in Dec. 2013.
Krissy was born in Reynoldsburg, Ohio, she currently resides in Cali where she is  the owner of Alpha Zone Fitness Therapy.