Houston Rockets guard James Harden made it to the 2014-105 All-NBA first team. As announced by the NBA, he is joined by New Orleans Pelicans forward/center Anthony Davis (119) and Memphis Grizzlies center Marc Gasol. as well as Cleveland Cavaliers forward LeBron James and Golden State Warriors guard Stephen Curry.
He was just four votes shy of joining Stephen Curry and LeBron James as unanimous selections! Which in our eyes deserves some kind of celebration and our kind of party requires to make a re-count of his gals!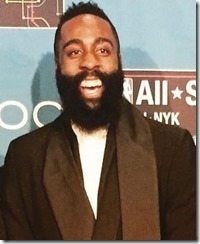 Let's go back in time shall we! In 2012 the NBA shooting guard was romantically linked to a Houston stripper named Jasmine Taylor. That same year he moved on to female rapper Trina. Reports indicated at the time they first began seeing each other in the summer of 2011, with Harden putting forth an aggressive courtship. Trina who was in a relationship with Kenyon Martin never denied nor confirmed the rumors.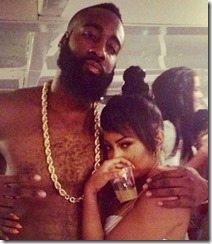 2013 was the year od Hip Hop video model, Kyra Chaos. The model and video vixen who also owns her own clothin line posted several photos of the couple while partying up.
It is not known exactly when or why the couple split but by 2014 the NBA star had another girl under his belt. We are talking about none other than, radio personality, Sarah Vivan who happens to be Lil Wayne's baby mama.
Some media reports, say Sarah and Harden even started dating since August 2013 and kept things super private. It wasn't until earlier this year that it was known about their mysterious relationship when Harden and Amber Rose allegedly hooked up!
Sarah fired back on social media, after Rose posted a picture and captions "Houston always does me right." We took a trip to Vivan's instagram and we do think she might have let this one slip.