Tracy Roenick
Tracy Roenick is the lovely longtime wife of former NHL star turned sports broadcaster, Jeremy Roenick.
Tracy's husband is currently in hot water after being dismissed by NBC over inappropriate comments.
Born Jeremy Shaffer Roenick; the Boston native was drafted 8th overall by the Chicago Blackhawks in 1988.
Roenick played in the league for 18 seasons and was one of the few Americans to record over 500 career goals. He was named to 9 NHL All-Star games during his career.
After his retirement, the NHL great became a hockey analyst on NHL Network.
Roenick joined NBC Sports in 2010 as a studio analyst, appearing on NBC Sports Group's NHL coverage on NHL Live and NHL Overtime, NBCSN's pregame and postgame shows. He also served as a men's and women's Olympic hockey studio analyst at the last three Winter Olympics.
The 50-year-old was suspended indefinitely without pay over a month ago for making inappropriate comments about his co-workers on Barstool Sports. He announced today he will not be returning to NBC.
He and gorgeous wife, Tracy have been married for nearly three decades.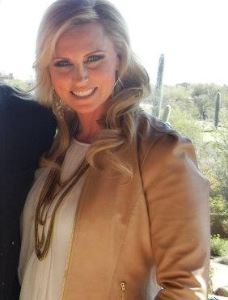 Tracy Roenick was born March 10, 1972; the blonde is also a native of Boston, Massachusetts. In fact, Tracy met her furutre husband as a teenager when they both attended Thayer Academy.
Tracy Roenick attended Boston College and later studied at Northwestern University graduating with a degree in business communication. According to her LinkedIn, Tracy Roenick is a Managing Partner of Roenicklife, LLC.; and owner at Roenicklife, LLC. She's also served as her husband's manager. Prior to that she a Regional Director for ACN.
She became Mrs. Roenick in 1992, the couple tied the knot following their college graduation. The wedding was held at the Four Seasons in Boston.
Tracy Roenick is the proud mom of the couple's two children; son Brett and daughter, Brandi.
Find Tracy Roenick on Twitter here.