Ja'Nice Thomas
Meet lovely Ms. Ja'Nice Thomas! apparently she is the girlfriend and baby mama of NFL player Jerry Jeudy; the 6'1″ wide receiver for the Denver Broncos, selected during the first round (15th overall) during the 2020 NFL Draft out of the University of Alabama.
Jeudy was born in Deerfield Beach, Florida, he is one of the amazing children born to Mary Jeudy. Jerry's siblings are his older brother Terry, 24, and sisters, Diane and Aaliyah.
Jerry sis Aaliyah who was born prematurely and with a rare condition; doctors gave a 10% chance to live and even less to celebrate her first birthday; Aaliyah passed away in 2016, she was seven.
Jerry Jeudy started playing at  Deerfield Beach High School, before committing to play for the Alabama Crimson Tide at the University of Alabama in July 2016.
Jerry is probably not together with Ja'Nice Thomas, the beautiful lady from Pompano Beach who gave birth to his beautiful daughter Journee Aaliyah this March.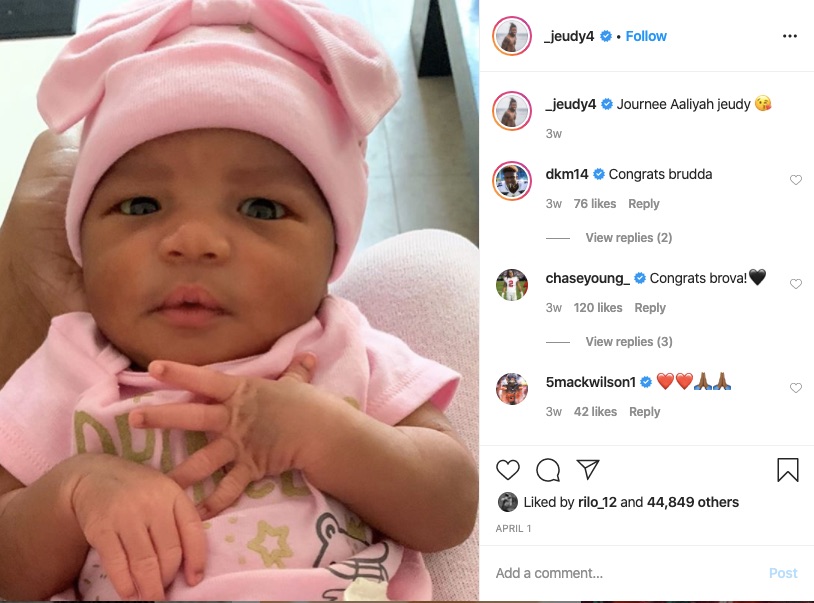 Pin
Furthermore, sadly there isn't much out there about Ja'Nice, she is an entrepreneur, owns a business called Sweet Tooth.