Jessica MacArthur
This lovely NHL Wag is Jessica MacArthur; she is the stunning wife of Canadian ice hockey player Clarke MacArthur, a left wing for the Ottawa Senators.
He played with the Buffalo Sabres, Atlanta Thrashers, and the Toronto Maple Leafs prior to joining the Senators in 2013.
Jessica's NHL stud is one of two children born to  Deborah and Dean MacArthur, also proud parents of her sister-in-law Kristin. He joined his first hockey team in Alberta, the Strathcona Warriors.
In 2002, he played for the Drayton Valley Thunder, leaving the team when the Buffalo Sabres selected him in the third round of the 2003 NHL Draft.
However, he didn't make his NHL debut until  December 19, 2006, against the Montreal Canadiens.
The Sabres traded him to the Atlanta Thrashers in 2009, the following year signed a one-year deal worth $1,1 Million with the Toronto Maple Leafs. He did not renew his contract though, instead, he signed with the Ottawa Senators on  July 5, 2013.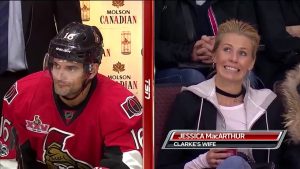 MacArthur is happily married to the formerly Jessica Frisbee; these two tied the knot in September 2010, the ceremony was at Chapel Hill and the reception at Casa Large vineyards in New York.
Nowadays, the MacArthurs live in Ottawa with their two beautiful children; four-year-old daughter, Emery, and son, Gus, who is a few months shy of his second birthday.
Photo Credit: TammysWales.