Hilary Quinlan
Hilary Quinlan is the lovely blonde wife of TV journalist and sportscaster, Bryant Gumbel. Her hubby is best known for his work as the long time co-host of NBC's Today.
The former Today –co-host will deliver a eulogy at the funeral of three-time heavy weight champ, Muhammad Ali.
Gumbel born September 29, 1948 in New Orleans, Louisiana; started with KNBC in Los Angeles as sportscaster following his college graduation. He eventually impressed executives at a point that he was chosen to succeed Tom Brokaw as co-anchor of the Today show in 1981. He was the first African-American to host a network morning show.
During his 15-year run on Today, first alongside co-host Jane Pauley and later with Katie Couric, he gained a reputation as being one of the best in the business, interviewing presidents and world leaders, and rubbed shoulders with everyone from pop stars to the Pope. Gumbel shocked when he left Today in 1997, while it was still the No. 1 morning show.
Gumble quickly landed a five-year $25-million contract with CBS to host his own primetime newsmagazine called Public Eye with Bryant Gumbel. The program was canceled after one season. Then in 1999 he made his return to morning TV. After CBS built a $30 million studio for Gumbel and co-host Jane Clayson, The Early Show was born.
He has been the host of Emmy-award-winning Real Sports with Bryant Gumbel on HBO since 1995, the show has been described as "flat out TV's best sports program."
Her hubby was previously married to June Gumbel. The couple had a very public and bitter divorce finalized in 200, after 28-years of marriage. It was reported  June got a sweet settlement from her ex-hubby; she got the pair's Upper East Side apartment and plush Westchester estate during a hearing before Judge Mark Dillon in White Plains County Court. June, had accused the CBS star of being a "serial adulterer." The former couple share two kids, son Bradley and daughter, Jillian.
It's believed Hilary Quinlan and Gumble had been in a clandestine relationship and she was accused of ruining his marriage. She's been described as his long time girlfriend.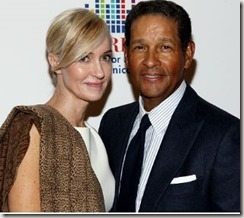 Hilary went from being the other woman to becoming his second wife in 2002. The two met in Chicago, where she was working for an investment banking firm.
He proposed to her on December 2001, just four months after finalizing his divorce.
The 56-year-old Hilary Quinlan is a former researcher for Goldman Sachs, she also did some modeling in her younger years.
According to People.com the couple had a very discrete wedding ceremony, attended only by about 25 friends and family members. The couple tied the knot at the Breakers Hotel in Palm Beach. It was the first marriage for Hilary Quinlan.
Hilary took her hubby's names and now goes as Hialry Gumbel. According to her Facebook page, she attended the Western Washington University. She is listed as an author for UniChef Top Chefs Unite and serves in the UNICEF board of directors.












The lovely blonde and her hubby reside in New York.