Juanika Ellis
Juanika Ellis is the very lovely and supportive wife of NBA player, Monta Ellis. Her husband has been an NBA player for over a decade and currently plays with the Indiana Pacers.
Juanika's husband was born Monta Ellis on October 26, 1985. The Jackson, Mississippi native is the son of Marcella Singleton and Rosa Ellis.He has two siblings, including older brother Antwain Ellis. His mother Rosa Ellis starred at Lanier High School, played junior college basketball.
While attending Lanier High School –he was named Parade Magazine High School Player of the Year 2005 (along with Greg Oden) and a USA Today All-American his senior year.
Considered a five-star recruit by Rivals.com, Ellis was listed as the No. 2 shooting guard and the No. 3 player in the nation in 2005. Right out of high school, Ellis was the 40th overall pick by the Golden State Warriors in the 2005 NBA draft.
He had previously committed to Mississippi State University, but later decided to enter the NBA draft.
He played for the Golden State Warriors from 2005 to 2012. He went on to play with the the Milwaukee Bucks in 2012 where he played one full season before signing with the Dallas Mavericks in 2013. He was a free agent in 2015 before signing with the Pacers. On July 2015 he signed a four-year, $44 million contract with the team.
Aside from being an NBA star and an avid fisherman, Ellis is also a happily married man. Meet his wife, Juanika Ellis below.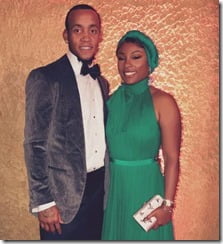 Born Juanika Amos, she became Juanika Ellis in July 2010. Since then the couple have welcomed two children, daughter Myla and son, Monta Jr. Juanika is six years older than Monta.
The two met in 2006 at a party and somehow got into a lively debate about the Chicago Bears and his beloved Cowboys. "He was being a knucklehead," Juanika says. Still, she saw past this and they've been together ever since.
When they met Juanika was well established in her career as a Memphis police officer. She did not learn Monta played in the NBA until weeks into their relationship.
Like most wags, Juanika has been a great source of support for her husband. According to the indystar, it was her who persuaded Monta to make amends with his father.
The pair has faced their share of drama in the past. Back in 2011, Monta was sued for sexual harassment. He allegedly sent a number of explicit photos to a former Warriors employee. The case was settled out of court.
Mrs. Ellis mostly keeps a low profile but she can be seen gracing her husband's arm at red carpet events. The two were featured in Essence mag for NYFW in 2016.
Juanika Ellis and her husband own a 15,000-square-foot lakefront mansion on Indianapolis' Far Northside.
You can follow Juanika Ellis on Instagram here.