Karen Banister
Karen Banister is the wife of MLB manager Jeff Banister. He is the current manager of the Texas Rangers. He also spend nearly three decades with the Pittsburgh Pirates prior to joining the Rangers in 2014.
Manger Banister was born on January 15, 1964 in Weathweford, Oklahoma. He is one of two children born to Verda and Bob Banister, basketball and baseball coach at La Marque High who passed away from a hear condition at the age of 48.
He was about 16 or 17 when an injury to his right ankle lead to his bone cancer diagnosis. Skin grafting was neccesary to treat cysts he developed and seven surgeries saved his leg from being amputated.
After High School Banister attended at Lee College before transferring to the University of Houston. He was selected by the Pittsburgh Pirates in the 25th round (621st overall) in the 1986 MLB Draft.
Minor Leagues
His professional career started playing with several minor league teams such as the Buffalo Bisons, Watertown Pirates, Macon Pirates and the Harrisburg Senators.
It was until July, 1991 that he made his MLB debut with the Pirates in a game against the Atlanta Braves. He retired in 1993.
After his retirement, he was named the manager of the Pirates's minor league team Welland Pirates in 1994 and manger for the Augusta GreenJackets of the South Atlantic League in 1995, then managed the Hawaiian Winter League until 1996.
In 1997 managed the Lynchburg Hillcats of the Class A-Advanced Carolina League. And the Carolina Mudcats until 1998.
He was the Pittsburgh's Major League Field Coordinator in 1999 and Minor League Field Coordinator in 2003; interim manager of Lynchburg in 2004 and pitching coach in 2008.
In 2009, he was named manager of the Scottsdale Scorpions of the Arizona Fall League and the Pirates' interim bench coach in August, 2010.
Before becoming a member of the Rangers, Jeff Banister was interviews by the Houston Astros who ended up hirinfgA.J Hinch. The Rangers named him manager on October 16, 2014.
As previously mentioned, Jeff Banister is happily married to his wife Karen.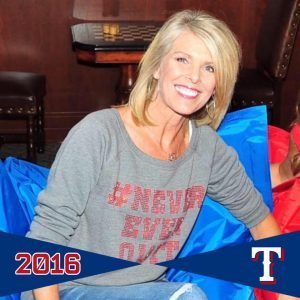 Mrs. Banister was born Karen S. Stanton (b. Feb. 1965). She met her hubby while they were in college at the University of Houston.
Karen  graduated from La Porte High School and studied education, business and dance at the University of Houston.
Karen married Jeff Banister on December 17, 1988 in Harris County, Texas. She is the proud momma of Alexandra a volleyball player  at Baylor and Jacob was a teacher at Clear Lake High School in Houston.