Meet Karla Rios
Karla Rios is the wife of 34-year-old Puerto Rican MLB player Alex Rios. Her hubby currently a right fielder for the Kansas City Royals will be playing tonight against the Toronto Blue Jays for game 1 of the ALCS!
Rios is a former  Blue Jays prospect — who combined enough promise and results to sign a seven-year, $69 million contract that didn't end until after last season. He then was acquired by the Royals and signed a one-year ,$11 million deal.
Heading into the season, Rios's resume featured a pair of five-win seasons back in 2007 and 2008, mixed as well with six, three-WAR seasons.
He spent the 2014 season with the Texas Rangers, batting .280 with 30 doubles, eight triples, four homers and 17 stolen bases in 131 games. His eight triples tied for fourth-most in the American League, while he ranked second in the league with a .333 batting average (45-for-135) during day games. He also batted .325 (40-for-123) with a .545 slugging percentage against left-handed pitching. Rios got off to a hot start last season, leading the league with a .335 average (84-for-251) through games on June 10, which included a 12-game hitting streak from May 17-29.
He debuted for the Blue Jays in 2004. The two-time All-Star (2005-06 with Toronto), began his 12th Major League season this year. The veteran outfielder ranks 24thamong active players in hits (1,680), 21st in doubles (352), 10th in triples (61) and seventh in outfield assists (90).
The Coffee, Ala., native graduated from San Pedro Martin High School in Guaynabo, Puerto Rico, before being selected 19th overall by Toronto in the 1999 June Free Agent Draft.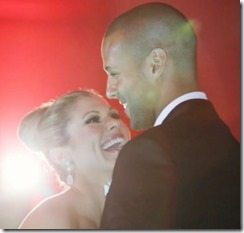 But enough about Alex Rios, let us tell you more about his lovely wife, Karla Rios.
Karla Rios and Alex had been dating for several years, she was described as his long time girlfriend before they tied the knot in in December 2012.
Karla Rios is not only his long time partner, wife, supporter and biggest fan but she is also the mother of the couple's two children: a son, Alex and daughter,  Alessandra. During the offseason the couple resides in Guaynabo.
According to her Facebook page, Karla Rios, studied Business Administration at Interamerican University of Puerto Rico. The lovely mother of two calls, Guaynabo, Puerto Rico her hometown and has also lived in Chicago and Dallas.