Meet Tayler Francel
Tayler Francel is the lovely girlfriend of 24-year-old MLB player Kevin Jeffrey Plawecki, better known as Kevin Plawecki. Tayler must be super exited for her catcher boyfriend currently a New York Mets man, that is up to play next tonight!
After a loss to the Dodgers in Game 4, it's off to Los Angeles for the series decider on Thursday night.
Plawecki was not selected in the Major League Baseball (MLB) Draft following his senior year of high school. He then entered Purdue University, where he played college baseball for the Purdue Boilermakers.
He was ranked by many publications as a top-80 prospect throughout baseball.
2012 was a good year, for the 6'2 inches tall guy who was not only named the Most Outstanding Player of the 2012 Big Ten Conference Baseball Tournament and 2012 Big Ten Conference Baseball Player of the Year but was also selected by the Mets in the first round, with the 35th overall selection, in the 2012 MLB Draft.
The rookie backstop smashed his first career home run earlier this year in April, and the second in June.
But enough about Kevin, we know you want to know more about his pretty gal and the soon-to-be Mrs. Plawecki.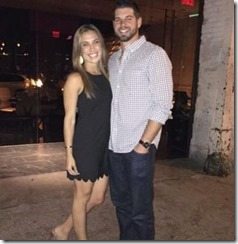 That's right, Tayler and Kevin are currently engaged. They both added their status on Twitter so we can expect their wedding very soon. In fact, according to the MLB blog, they will tied the knot in January!
Tayler Francel is one excited bride to be, last September she had a bachelorette party and she often shares the countdown to her special day posting: Only 22 more weeks till I marry my man, but who's counting?"
The couple has a wedding registry under their name in Macy's.
According to The Knot the blonde reveals, she played soccer at Purdue University where Kevin played for the baseball team. They met in Owen Hall, when she was invited by a mutual friend to Kevin's room for free pizza! She describes an instant connection between the two. They became best friends and began dating in the beginning of Sophomore year.
Kevin took their relationship to the next level in January 2014.
She was born August 30th, 1991. The daughter of Ed & Candace Francel. Tyler also has two other sisters: Tahnee & Taryn. She's originally from San Diego, California.
Tayler Francel graduated from Purdue in 2013 with a degree in Public Health Promotion.
Congrats to the happy couple.
You can find her on Instagram here.