Meet Danyll Gammon
Danyll Gammon is the lovely wife of 31-year-old MLB player Troy Tulowitzki. It's an exciting night for her hubby, the Toronto Blue Jays shortstop will face tonight the Kansas City Royals in game 1 of the AL Championship Series!
Tulowitzki essentially jumped from Double-A ball straight to the majors. His minor league career lasted just 148 games in 2005 and 2006, and that includes a stint in the Arizona Fall League. His only Triple-A action has come on rehab assignments since he became a full-time major leaguer.
The MLB vet will sure have his biggest fan following tonight's game closely. Danyll Gammon and her man go a long way back. She became Mrs.Tulowitzki in 2009 but the pair have history. They met while attending Freemont High School in Sunnyvale, California. The two became high school sweethearts and took their relationship to the next level in November 2009. Troy proposed in 2008.
Danyll Gammon also showed talent for sports. In high school she played for the basketball team. Danyll lettered in basketball in multiple seasons but gave up on the sport shortly after graduating from high school.
Tulowitzki stayed close to home for college, playing three seasons of baseball at California State University, Long Beach. He was drafted by the Colorado Rockies in 2005 and moved up to the big show the next season.
Troy is a smart man, he acknowledge the role Danyll Gammon has had in his career saying about her,
Danyll was there from the beginning She was with me when I was nobody. And she's a special person to put up with how crazy I am about baseball.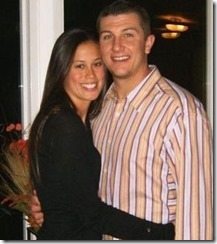 Danyll Gammon is also a mom of one. The Tulowitzki's welcomed their first child last year. Danyll Gammon gave birth to a baby boy, named Taz.
To complete the family, they have two dogs, named Ripken and Rawlings.
You can find the wife and mom of one, on Facebook here.