Katie Hoaldridge
Check out Katie Hoaldridge; this stunning NHL Wag is the girlfriend of Canadian ice hockey Player Jamie Benn the captain of the Dallas Stars, who left his mark at the 2014 Winter Olympics in Sochi, but we are not really going to talk that much  about Jamie Benn, but rather about his hot girlfriend Katie Hoaldridge, so are you ready?
6'2″ Jamie Benn was born on July 18, 1989, in Victoria, Canada, Jamie's older brother is Jordie Benn also playing with the Dallas Stars. his uncle Dave Barr is the 2000 Canadian Golf Of fame inductee; Jamie was drafted by the Dallas Stars 129th overall in the 2007 NHL Entry Draft, made his  debut with the Canadian Ice Hockey Team  for the 2009 World Junior Championships in Ottawa.
Ok, let's check Katie Hoaldridge, is a model, athlete and insanely beautiful, Katie Hoaldridge born July 4, 1991, in Fort Worth, Texas, one of two children born to Hank and Jerri MacNair, (her parents are divorced, mom Jerri is now married to Mr. Mark McNair), her sister is Emily.
Katie attended at Burleson High school where she was a member of the cross country team, after graduating from high school in 2009; Katie attended at the University of Texas in Austin where she continued to shine with the cross country team. She graduated in 2013 with a degree in television and radio as well as in communications and psychology.
She worked as a booking agent and talent buyer intern with Live Vibe Collective; was a public relations intern in the marketing department at Warner Music Group; in August 2013 was an A&R internet for Sony Music Entertainment. Since August 2014, Katie Hoaldridge has been a model with Wilhelmina Models.
Follow Katie Hoaldridge on Twitter here
Before our girl Katie came into the map, we heard about another gal who was or wasn't dating Jamie Benn; her name is Allie Wiebe. Yup, that's her below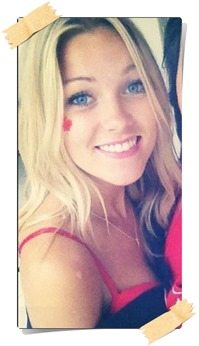 Allie Wiebe like Benn is Canadian, she was born Alexandra Wiebe on March 16, 1994, in Ladner, British Columbia to her beautiful mother Mrs. Laurel Wiebe and her talented musician father Mr. Colin Wiebe, Allie has one sister Jess.
5'7" Allie is on her second year at the University of Victoria where she is a midfielder with the Vikes; Allie joined the Canadian National Training Center in 2008.
When she was attending at the Delta Academy Secondary School, she was a striker with the Whitecaps FC; she won the bronze at the CIS Championships.
OK, we know a bit about this gorgeous girl, but we don't have enough evidence she is dating Jamie Benn;  rumors posted here, looking over her Twitter feed we can see she definitely knows Benn and tweets him and he tweets her back.
But we are not relying on that to confirm they are in a relationship; too bad really because they are both pretty hot and it seems to me that Allie is dating a fellow soccer player some cute guy named Kane Wyatt.