Kelly Stokes Davis
Kelly Stokes Davis is the beautiful wife of Thomas Davis the outside linebacker for the Carolina Panthers, the lone remaining Panthers from the team that won the postseason. Thomas was drafted in 2005 by Carolina and has been an outstanding player since day one. His family couldn't be more prouder of him, talking about family, have you met Thomas Davis insanely gorgeous wife Kelly Davis? She is one lovely NFL WAG!!!
Kelly Stokes Davis' phenomenal husband was born in Shellman, Georgia on March 22, 1983. Thomas attended Randolph-Clay High School in Cuthbert where he besides playing football, he also played baseball, basketball and was part of the track team.
Thomas went to the University of Georgia where joined the Georgia Bulldogs Football Team and graduated with a major in consumer economics. Davis was selected with the 14th overall in the first round of the 2005 NFL Draft by the Carolina Panthers.
The Panthers picked Thomas as a safety, however during his rookie season he transformed into an amazing linebacker, he made one brilliant quarterback spy that contained Falcons' QB Michael Vick on December 4th, 2005. He finished that season with 1.5 sacks and 38 tackles.
In 2006 he played in 14 games that he played in recording 88 tackles and 1.5 sacks, the following year he played in all 16 games finishing the season with 88 tackles and three sacks, he played all 16 games also in the 2008 season finished it with 113 tackles, 3.5 sacks, and forced 2 fumbles.
He was placed on the reserve after suffering from an injured knee in the 2010 season, sadly in 2013 for the third time he tore his ACL, he made a miraculous recovery, no other player in the NFL has recover and returned from three ACL tears, but Davis is mend for greatness and by the 2012 he was ready to shine once again, recording 105 tackles, an interception, and 2 forced fumbles.
Thomas Davis played all 16 games in 2013 finishing with 16 games and recorded a career high 123 tackles, 4 sacks, 2 interceptions and a forced fumbles. Thomas' life in the NFL has been splendid, but nothing compares to the joy he gets when he is at home with his charming family, which brings us to Kelly Stokes Davis.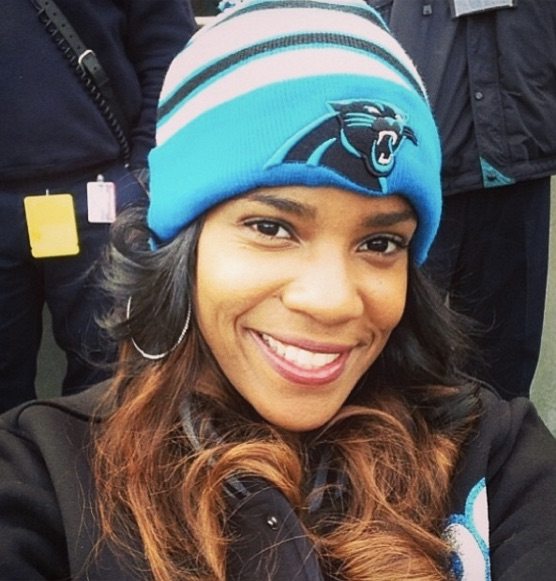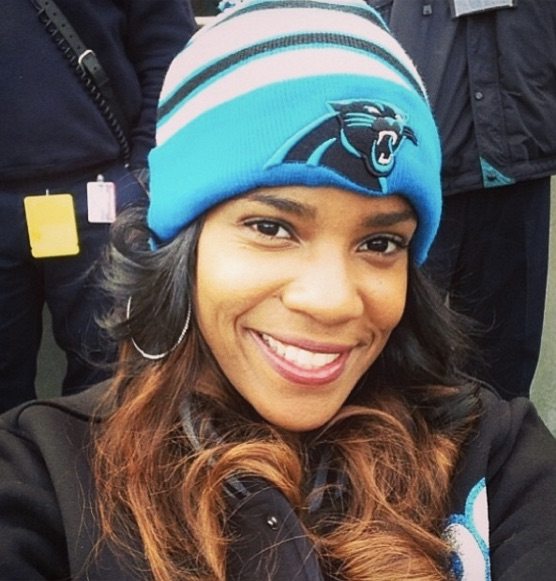 32-year-old Kelly Danielle Stokes ~ Kelly Stokes Davis was born in Greenville, South Carolina, to Terry Stokes Wolfe, 66. Kelly graduated from Winthrop University in Rock Hill, SC in 20087 with a major in biology, but let's back just a notch before Mrs. Davis her college diploma and let's go to 2005 her freshman year a Winthrop, where Kelly the hardworking mother of her little princess Skyy (just love her name), managed to keep good grades at college while she juggle with waiting tables at Applebee's and still had time and energy to play with Skyy; as you can imagine, there was no time for any social actives in Kelly's schedule but life had something well someone specially waiting for her.
That special soul was dragged by Javon Haye the defensive tackle for the Tampa Buccaneers and a friend of Thomas Davis who introduced them. Thomas who like Kelly was by that time the father of his handsome son Denim found himself uncontrollably attracted to Kelly in the hour they spend talking that night, he asked out and stayed 7 incredible days dating, sharing stories about each other's bundles of joy, as crazy as this is going to sound, Kelly had no idea Thomas was a NFL player and only found out when he told her that he had to go to practice.
"I didn't know he played football until he told me he had to go to practice," –
Months passed until Thomas finally met Skyy. He was the first guy of the very few Kelly had dated that met her little girl.
"I didn't date much," explains Kelly, "but when I did, I didn't introduce my dates to Skyy. I just wanted to make sure it was the right person before I brought a man into her life."
Thomas couldn't be happier to meet Skyy, (certainly she is just as lovely as her mom) over the next two years, Thomas, Kelly, Skyy and Denim became inseparable, one joyous news brought them even closer, a new member of the family was coming soon, Kelly was PREGNANT!!!!!
Kelly was a couple of months pregnant when she graduated. Thomas sadly couldn't be there.
"I was sad because Thomas had to go to a mandatory mini-camp and couldn't come. " she says. "He gave my family and his family video cameras and said that between both of them they had better come up with a good tape!"
Thomas made it home that night, he was carrying a big Nike bag, tennis shoes for Kelly on graduation???
Nah!! Something much better, much smaller and way brighter, can you guess??
Inside the bag there were no shoes, but a beautiful seven carat ring designed by Martin Delgado and there surrounded by their family he asked her to be his wife; she said Yes!
Kelly and Thomas Davis got married on March 22nd, 2008 at St. Luke Missionary Baptist Church after the ceremony they celebrated with family and friends at a reception at the Westin Charlotte in Charlotte, NC.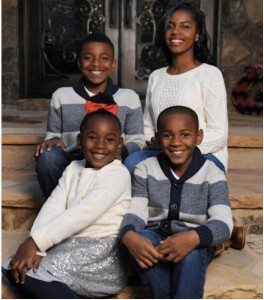 Little Thomas Jr, 7, asked his famous dad to add the Sr. on his jersey, after he started playing football. Their little daughter Mattison "Mattie" is now 6.
You can follow Kelly Stokes Davis on Twitter here.