Meet Fiorella Mattheis
Fiorella Mattheis is the lovely soccer wag of Brazilian footballer, Alexandre Rodrigues da Silva, better known as Alexandre Pato or just Pato.
Her 26-year-old boyfriend who is currently signed to Sport Club Corinthians Paulista will be redirected to Chelsea as a loan. According to news outlets, the Centre Forward will be heading to London to get a medical. At first the six-month loan deal with Chelsea was sanctioned by his current club, however the Brazilian is said to be hoping his form convinces the Premier League club to make the move permanent in the summer.
The striker, who boasts 27 caps and enjoyed a productive six-year spell with Milan earlier in his career, has not played a competitive game since November when he returned from a two-season loan stint with São Paulo and will undergo medical tests in England.
Pato passed on the chance to move to the Chinese Second Division side Tianjin Quanjian this month and is currently in the last year of his contract with Corinthians. It's pretty clear where Pato's eyes are at.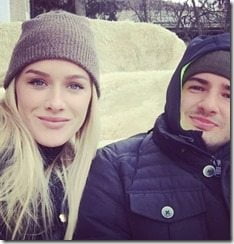 Pin
On a more personal note, his eyes are definitely set on gorgeous girlfriend, Fiorella Mattheis.
Alexandre Pato was previously married to Brazilian actress, Sthefany Brito. The marriage only lasted for one year. The then 20-year-old wedded Brito in 2009 and were divorced by 2010.
He is well known in his native Brazil for his partying ways. After his divorce he was linked to Miss Brazil 2010, Débora Lyra. He then moved on to older girlfriend, Barbara Berlusconi –one of the daughters of politician Silvio Berlusconi –and dated her for over two years.
Pato broke up with Berlusconi in mid 2013 but by the end of 2014 he and Fiorella Mattheis were already an item.
Stunning Fiorella Mattheis is a well known figure in Brazil. The gorgeous 27-year-old is a model, actress and TV host. The blonde is the daughter of race-car-driver Andreas Mattheis. Her mother is Sandra Mattheis.
Fiorella Mattheis was also previously married. In 2013 she walked the isle to marry Brazilian male judoka and Brazilian jiu-jitsu black belt, Flavio Canto. They divorced in 2014 and has been with Pato ever since.
Fiorella Mattheis has been modeling since her teens. She moved to Sao Paulo to fully pursue her modeling and also lived in Europe. She spread to acting and has been working in media ever since. She has two brothers, Alexandre and Rodolpho and one sister, Aline Mattheis.
Will Fiorella Mattheis be flying to London soon?
Find Fiorella Mattheis on Instagram here.