Quite the birthday gift for 49ers defensive end Raymondo McDonald. The 30-year-old to be is currently facing domestic abuse charges. Ray was arrested early on the morning of August 31, according to the Sacramento Bee, the arrest involves McDonald's pregnant fiancee!
The Florida native and former University of Florida player was a third round pick in the 2007 draft for the team. McDonald has been playing football since he was a kid in Pahokee, FL. He followed on his father's footsteps, Ray McDonald, Sr., was a four-year letterman for the Florida Gators from 1982 to 1985 and was a standout wide receiver on the 1985 Gators team.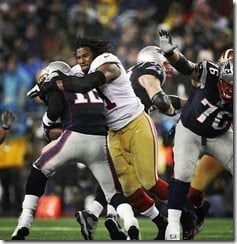 His parents (pictured below) seem to have a solid marriage and both his mom and dad are supper supportive of him and his brother, for them family always comes first, so they must be pretty disappointed on Ray doing something like this.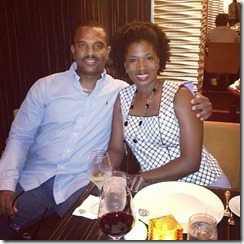 In 2010 he messed-up and was arrested for a DUI but the new charges give Ray major negativity as a reasonable and respected man which could end up messing with his game.
San Jose, California, police responded at 2:48 a.m. to a reported incident, and after "the domestic violence allegation was substantiated," they took the 6-foot-3, 290 pound lineman into custody and booked him. Further reports say that several of McDonald's 49er teammates were at his house at the time of the arrest.
NFL Commissioner Goodell announced on last week that the league was instituting a six-game unpaid ban for personnel who violate the league's policy on domestic violence.
A second domestic violence incident would be punished by a lifetime ban from the league; Ray could be hit with the new rules. Even thought things are not looking good for him right now McDonald apparently is not taking all the fault saying after posting bail later on Sunday
The truth will come out," he said. "Everybody knows what kind of person I am….a good-hearted person."
What do you think he meant? What does that say about his fiancée who is carrying his child? And by the way who is she? We looked for her on his social media accounts but no luck so far. Either way it doesn't look like a healthy relationship, once violence is involved, plus you don't proudly show you're in-love and add to the mix a baby is coming on the way!
McDonald, 29, is expected to play a key role in the 49ers defense this coming season. He has played almost all of the 49ers' games since 2008.
Find him on Instagram here.
****************UPDATE****************
Bad habits die hard huh! Miss Kendra Lorraine Scott, 27,  (b. May 20, 1988) has been revealed as Ray McDonald's baby mama and the couple who made headlines last August due to Ray's becoming violent towards her, is at it once again! We previously told you about Ray's first domestic violence scandal but last week the 30-year-old was arrested a second time after he allegedly attacked Kendra Scott –who gave birth to their two-month-old-son in February.
Several reports say Ray burst through Kendra's bedroom door in a drunken early morning rage, threatening her and their baby boy. Kendra herself spilled the beans to police as she filed a restraining order against her baby daddy last week. According to TMZ Kendra had hoped he would change after he attacked her while being pregnant –she did not filed charges in that case –but Ray not only became physical once again on May 25 but was also arrested a third time after he violated his emergency protective order.
Kendra was granted the restraining order this week and it requires McDonald to say 300 yards away from her and the baby. She blames his violent behavior on his alcohol abuse.