Kenneth Walker III Mother
Meet Kenneth Walker mother Shaunteshia Brown! Kenneth Walker is the talented running back currently playing for the Seattle Seahawks. Walker previously played college football with the Michigan State Spartans and the Wake Forest Demon Deacons.
Kenneth Walker High School
The player from Arlington High, rated No. 104 in Tennessee in 2018, and team captain, had an impressive career despite some setbacks. He was nominated for the Tennessee Sports Writers Association All-State team and rushed for 1,403 yards as a senior, even though he missed three games. He scored a total of 27 touchdowns that year and finished his career with 3,485 rushing yards on 493 carries, 13 100-yard games, and 41 touchdowns.
He also demonstrated prowess in catching, with 64 catches for 1,058 yards and 16 TDs. He was recognized as first team all-region at running back and kick returner, and played in the Toyota East-West All-Star game where he made a memorable 95-yard kickoff return for a touchdown.
In specific games, he scored five touchdowns each against Raleigh Egypt and St. George's, and gained 167 yards rushing vs. Houston. His performance led the Tigers to the 6A state playoffs under Coach Adam Sykes.
In his junior year, he rushed for 1,205 yards and 17 touchdowns, with seven 100-yard games. He was named first team All-Region 7-6A at running back and second team as a kick returner. Adding to his accolades, he caught 22 receptions for 411 yards and six touchdowns.
As a sophomore in 2016, he rushed 118 times for 877 yards and eight scores, with four 100-yard games. He also caught 28 passes for 377 yards and three touchdowns.
Kenneth Walker Wake Forest
The player participated in all 13 games and recorded at least one carry in the final 12. He finished second in team rushing with 579 yards, averaging 5.9 yards, making him the No. 3 freshman rusher in the ACC. His season average of 5.9 yards per carry would have been the third-best in school history if he had two more carries.
He achieved two 100-yard games with impressive performances against Rice (125 yards) and Duke (113 yards). In the game against Rice, he set a school record with a 96-yard scoring run, which was also the longest run by an ACC player in 2019. He was the leading rusher in three consecutive games including Rice, North Carolina (94 yards), and Elon (91 yards). He became the first freshman since 2000 to lead the team in rushing in three consecutive games.
He led the team in rushing against NC State (56 yards) and had a career-high 17 carries in the win over Duke. He finished third on the team with 14 plays of 20 or more yards, including nine carries of 20 yards or longer. He also added a team-high five kickoff returns of 20 yards or longer.
In his second year, he rushed for 579 yards again, ranking tied for third in the ACC in rushing touchdowns (13) and eighth in rushing. He played in seven games overall. His 13 rushing TDs tied for third most in a Wake Forest single-season. He had standout performances against Syracuse (three touchdowns), Virginia Tech (23 carries for a net of 66 yards and a touchdown), and NC State (a career-high 131 yards on 27 carries with three touchdowns).
His commendable performance against Virginia, where he scored a 75-yard touchdown contributing to a 128-yard, three-TD game, earned him the title of ACC Running Back of the Week. He was also named to the Doak Walker Award Watch List.
Kenneth Walker Michigan State
Kenneth Walker III made history by becoming the first from the university to win the Walter Camp National Player of the Year and the Doak Walker Award. He also placed sixth in Heisman Trophy voting, a record for the Spartans since 1988. The player was named a consensus All-American and the Big Ten Ameche-Dayne Running Back of the Year.
He led the Big Ten with an average of 136.3 rushing yards per game, ranking second in the FBS and first in the Power 5. With 1,636 total rushing yards, he topped both FBS and Power 5 charts. His performance placed him among MSU's single-season leaders in multiple categories, including rushing yards per game, total rushing yards, points, and total touchdowns.
Kenneth had eight games with 100-plus rushing yards, including two with over 200 yards. He set a school record with a 94-yard touchdown at Rutgers. In a win over Michigan, he scored five rushing TDs – the most ever against the Wolverines. This performance tied him for the number one spot in the FBS in a single game in 2021. Despite his impressive season, he opted out of the Chick-fil-A Peach Bowl to prepare for the NFL Draft.
Walker finished his college career at Michigan State with 263 carries for 1,636 rushing yards and 18 touchdowns.
Kenneth Walker Seattle Seahawks
Walker was selected by the Seattle Seahawks in the second round of the 2022 NFL Draft, with the 41st overall pick.
On July 26, 2022, Kewnneth signed his rookie-level contract with Seattle.
He made his first NFL appearance in Week 2 against the San Francisco 49ers.
In Week 5, he scored a 69-yard rushing touchdown in the game against the New Orleans Saints, despite a 32-39 loss.
Walker became the starting running back for the Seahawks after Rashaad Penny was moved to the injured reserve list.
His performance peaked in Week 7 against the Los Angeles Chargers, where he rushed for 167 yards and scored two touchdowns, contributing to a 37–23 victory.
On November 3, 2022, Walker was honored as the NFL's Offensive Rookie of the Month for October.
He continued his stellar performance in Week 9, rushing for 109 yards and scoring two touchdowns in a 31–21 win over the Arizona Cardinals.
In Week 12, despite a 40–34 loss to the Las Vegas Raiders, Walker managed to score two rushing touchdowns.
He ended the regular season on a high note, recording over 100 rushing yards in three consecutive games.
At the end of his rookie season, Walker had accumulated 228 carries, 1,050 rushing yards, and nine rushing touchdowns. He also had 27 receptions for 165 receiving yards.
He joined Curt Warner to become the second player in the Seahawks' history to rush for at least 1,000 yards as a rookie.
During the 2022–23 NFL playoffs on January 14, 2 023, Walker rushed 15 times for 63 yards and a touchdown in a Wild Card Round, though the team lost 41–23 to the San Francisco 49ers.
He earned a spot on the 2022 PFWA All-Rookie Team for his exceptional performance during his rookie season.
Kenneth Walker Contract
On July 26, 2022, Kenneth Walker signed a four-year, $8.44 million contract with the Seattle Seahawks. The deal included a $3.319 million signing bonus, $5.439 guarantee and an annual salary of $2.11 million.
Kenneth Walker Girlfriend
Kenneth Walker does not have a girlfriend; he hasn't been married and has no children either.
Kenneth Walker Parents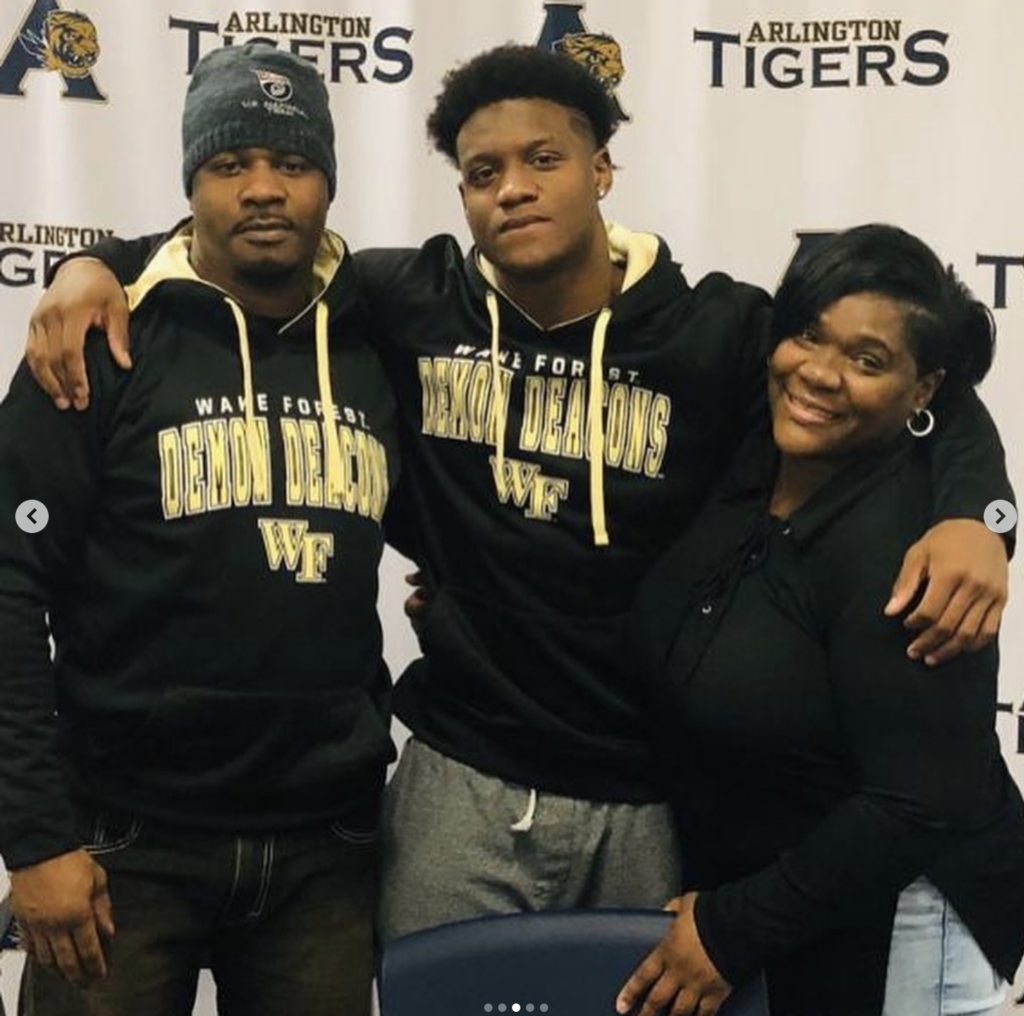 Kenneth Walker II was born on October 20, 2000, in Arlington, Tennesse, to Kenneth Walker Jr. and Shaunteshia Brown.
Kenneth Walker III Mother
Shaunteshia Brown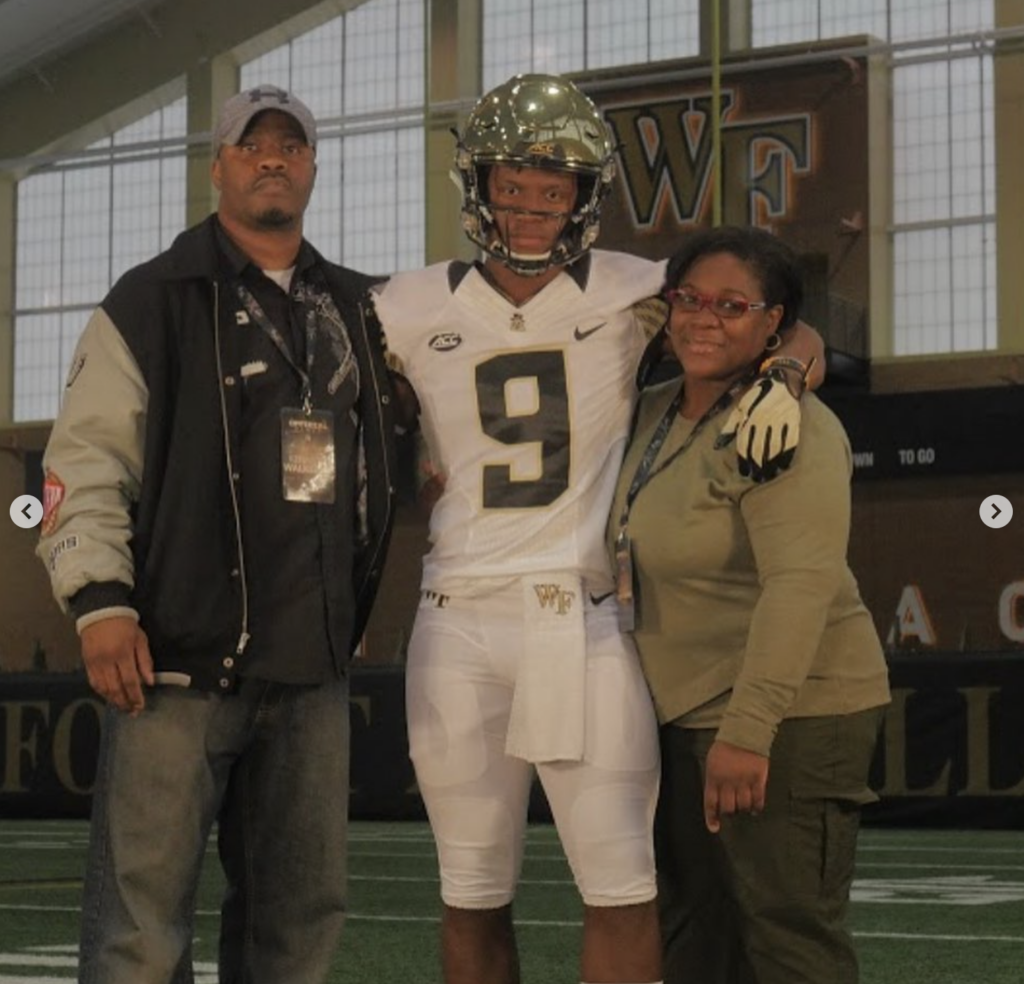 Kenneth Walker III mother, Shaunteshia Brown was born Shaunteshia D. Brown on June 19, 1977; she lives in Memphis, Tennessee. No more is out there about her, except that when Kenneth was a senior in high school, doctors found he had a blood clot in his lung. His mom, Shaunteshia Brown commented.
The doctor came in and asked if he played sports, and I said, 'Yes sir, he plays football.' He responded, 'Not anymore.