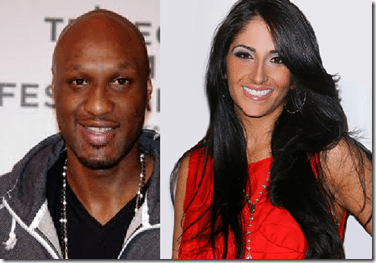 Meet gorgeous Lara Manoukian 37, she is part of the saga of women that have been involved or romantically linked to the highly popular-this days- basketballer, Lamar Odom. Do you remember how Lamar and Khloe Kardashian met, dated and hooked up and just after a few weeks they decided to tie the knot?? And how in just nine days of preparations they went through with it?? You do right! So you probably heard that around that time the NBA player had a steady relationship and that girl turns out to be Lara Manoukian!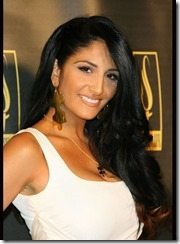 A scorned Lara said back in 2009, she and Lamar had been living together for years and that she had deserter her for Kardashian after 2-3 weeks of dating and that he only married her for her celeb status! Manoukian allegedly took care of the household chores and her man while they were dating.
The beautiful brunette is a Jewelry Designer, her stepfather is Harry Diramarian; according to her personal website "sinlesslife" she is from Pasadena, CA, and was inspired to create SinlessLife while on a trip to Madrid, Spain, in early June 2008. Her company offers unique designs, she always had a strong desire to help others grow in their spiritual walk and seeing the powerful symbolism of Faith, the perfect combination was revealed as she seized the opportunity that is now SinlessLife According to Lara:
"Sinless Life accessories are the perfect reminder for someone looking to grow spiritually. Their beauty reminds you of God's craftsmanship; its symbolism reminds you of you constant need to commune with him daily."
Lara Manoukian's SinlessLife, LLC has been a success among her clients, her inspirational jewelry and accessories are already adored by some of the industry's most notable, including ex-boyfriend Lamar when they were still an item. Back in 2011 Manoukian hosted a launch party at the Falcon Restaurant in Hollywood, California, to preview her new jewelry collection. You can currently see her jewelry adorning a list of stars which includes Brandy, Omar Epps, Keisha Epps from Total, Rhona Bennett from En Vogue, Lamar Odom, Lil' Kim, Omari Hardwick and many more.
She was featured in hollywoodiconmagazine as one of Hollywood's entrepreneurs to watch a few years ago.  Lara personifies the hot, young entrepreneur.
So now that we think about it, Lara girl you really dodge a bullet with Lamar huh!
You can follow her on twitter here or find her on Facebook here.