Lauren Bonino
Lauren Bonino is the lovely wife of NHL player Nicholas Lawrence Bonino, better known as Nick Bonino. Her 28-year-old hubby is the guy sporting the #13 currently for the Pittsburgh Penguins.
Her hubby was born April 20, 1988 in Hartford, CT. Nick attended Farmington High School in Connecticut and played college hockey at the University of Boston.
Bonino made his NHL debut in 2009 with the Anaheim Ducks after being drafted by the San Jose Sharks in 2007.
In his last season in Vancouver he put up with up 15 goals and 39 points after a career year with the Anaheim Ducks in 2013-14 that saw him post 22 goals and 49 points.
Lovely Lauren Bonino was born Lauren Cherewyk on Aug. 15, 1989. in St. Albert, Alta., The daughter of Ron and Sue Cherewyk.
She and her hubby have lots in common. The blonde is not only his wife, but is also a former player herself so you can imagine the conversations this two have about games! Lauren Bonino attended Boston University where she played for the Women's Hockey team. Lauren enrolled in the University's College of Communications. And yes, that is also where the couple met.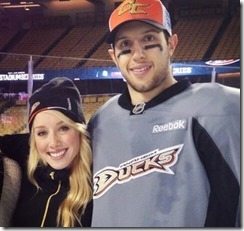 Lauren and Nick first got engaged on July 1, 2013. They were married sometime in 2014.
By now, she knows what it takes to be the wife of a famous NHL player, you know the kind of things you need to give up, like moving from Vancouver, which was their home until very recently when Nick was traded to the Pittsburgh Penguins. Lauren Bonino is sure a good sport when it comes to adapt to a new team.
When Nick played for the Anaheim Ducks she was living with him in Anaheim, and she did the whole Lady Ducks thing which includes participating in charity events like fashion shows which help raise money for a hospital.
Now a days, Lauren Bonino spends her time caring for the couple's adorable four month old baby girl. Their sweet Maisie Bonino was born Jan 5.
The blonde is also a dog lover and own an Australian Shepherd, named Kali.
You can find the pretty blonde on Twitter here.